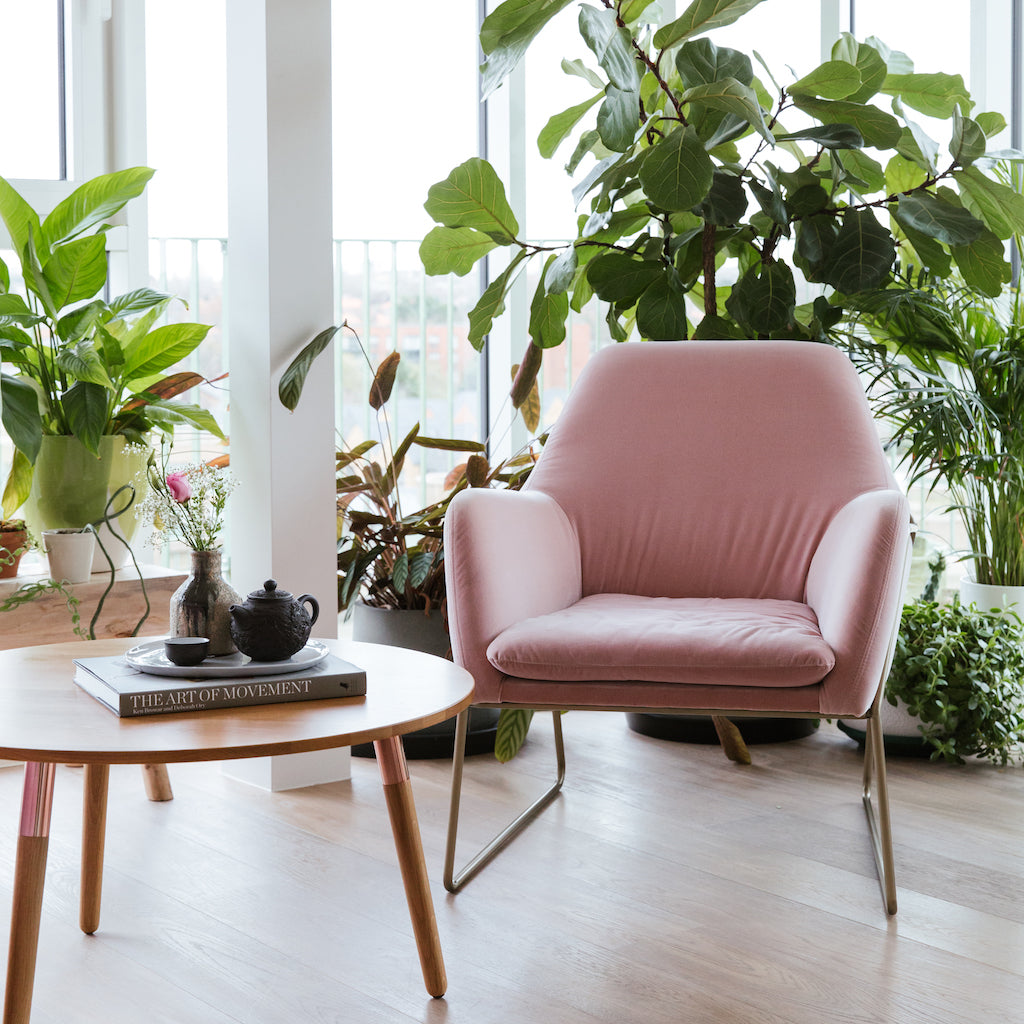 That new home feeling - there's nothing quite like it. You're faced with the magic of an empty space, free to fill it however you choose, the possibilities endless… But with so many ways you could furnish your new home, that initial excitement can quickly turn into feelings of stress and overwhelm.
While the beauty of a home is in its uniqueness and individuality, there are some commonalities that apply when furnishing any space. As it's something I've done myself, I wanted to draw upon my personal experiences for this post, so I'm sharing some tips I wish I knew before I started that might help you in your journey. 
I hope this blog is useful for anyone about to begin, or is in the midst, of furnishing their flat. Whether this is a space you own or one you are renting, my guide still applies, and overall I hope I can reassure you that although you might feel like you have a huge task ahead of you, that doesn't automatically mean it has to be stressful!
Half the fun of your flat is the journey you take to make it what it is, and no matter what you end up with, this will continue to evolve and change as you settle in. Just try and enjoy the ride.
Tip 1 - Take your time
When my husband and I moved into our new home we had zero furniture, so already we felt the pressure to get started with purchasing furniture and pieces to make it our own. Yes, you do want to have your space feeling homely as quickly as possible, but you don't rush it.
If you start spending all your free time getting your home ready, it will quickly become a chore, which sucks all the fun out of it and might even affect how you feel about your place. Make sure you're also making time to walk around the neighbourhood and relaxing in your new home, even if that means sitting on cushions on the floor for a while before you make a decision about a sofa.
Photo: Joanne Crawford
Tip 2 - Don't dwell on the mistakes
We bought this beautiful wooden table that had a greyish brown colour almost straight away. We loved it but since it was wood, I felt we needed to protect it. I heard Danish oil was good for sealing the wood. As a precaution I put some on the bottom of the table to test the colour. 
It looked ok and so I applied it to the entire table, which I instantly regretted - it made the wood look somehow wet and yellow, completely different to the deep wood we'd fell in love with. For weeks afterwards I tried everything to bring the colour back, but nothing helped. I wish I had used a Polyvine wood varnish instead, or been a bit more patient with the initial coating, but I couldn't reverse it now.
Although it never ended up looking how we initially intended, we've gotten used to it now and don't even notice that the table is a different colour. Perhaps the oil has faded, or perhaps because we didn't dwell on the mistake, our open-mindedness has made it easier for us to accept it as part of our space. Either way, mistakes happen.
Mocked up several sofas from different companies to see which one looked the nicest against my Winter Snowdrift Wallpaper.
Tip 3 - Making a decision
I find making decisions is the hardest and most stressful part of furnishing a new home. No matter how many moodboards I create, I'm constantly in self-doubt as to whether I'm making the right choices. Like most people, I just want everything to be perfect!
Luckily, I have a great community of designers and creatives on social media, so these days when I really can't decide I tend to pop my choices up for a vote on Instagram stories. People love sharing their opinions, even if they aren't designers themselves, and it's always nice to hear from others and learn from each other. 
I don't always go with the popular vote but somehow the results always make things clearer in my mind around what I really want to create with my space. If you don't use Instagram yourself, simply share your choices with friends and family and see whether their opinions help you form one of your own. There's no harm in asking!
Photo: Joanne Crawford
Tip 4 - Get some help
My husband and I are notoriously bad at DIY - I don't think we'd held a drill in either of our hands before we moved in - but we thought, how hard could it be to put together a trellis? Our first drill purchase and a few Youtube videos later, we were no closer to assembling and somehow managed to break the drill so part of it was sticking out of the trellis. It hadn't gone well.
Eventually we called a handyman to come out and help us. He knew exactly what to do and if we'd skipped trying ourselves and got some help in the first place, it would have been a very quick and painless process! And with the stuck drill, it ended up costing us more.
If you know from the get go that you aren't very good at DIY, maybe it's best to get some help, else you might cause a bigger problem trying to do it yourself.
Tip 5 - Get to know your neighbours
Having great supportive neighbours will not only improve your social life, but they are a great source of knowledge when it comes to your home and the surrounding area. If you live in a block of flats, or detached housing, they may even have exactly the same appliances as you and may be able to help you as you navigate your home decor journey.
Regardless, it's always worth knocking on your new neighbours door shortly after moving in and saying a quick hello. Creating a home is about what's on the outside as well as within. Being surrounded by blossoming friendships and an area you feel connected can only help you create your nest of dreams.
Read more from our Blog:
Pantone Colour of the Year: Grey + Yellow
Styling Our Dino Wallpaper in Pink Green: Q+A with Tara Moon
When To Wallpaper More Than One Wall
See Comments