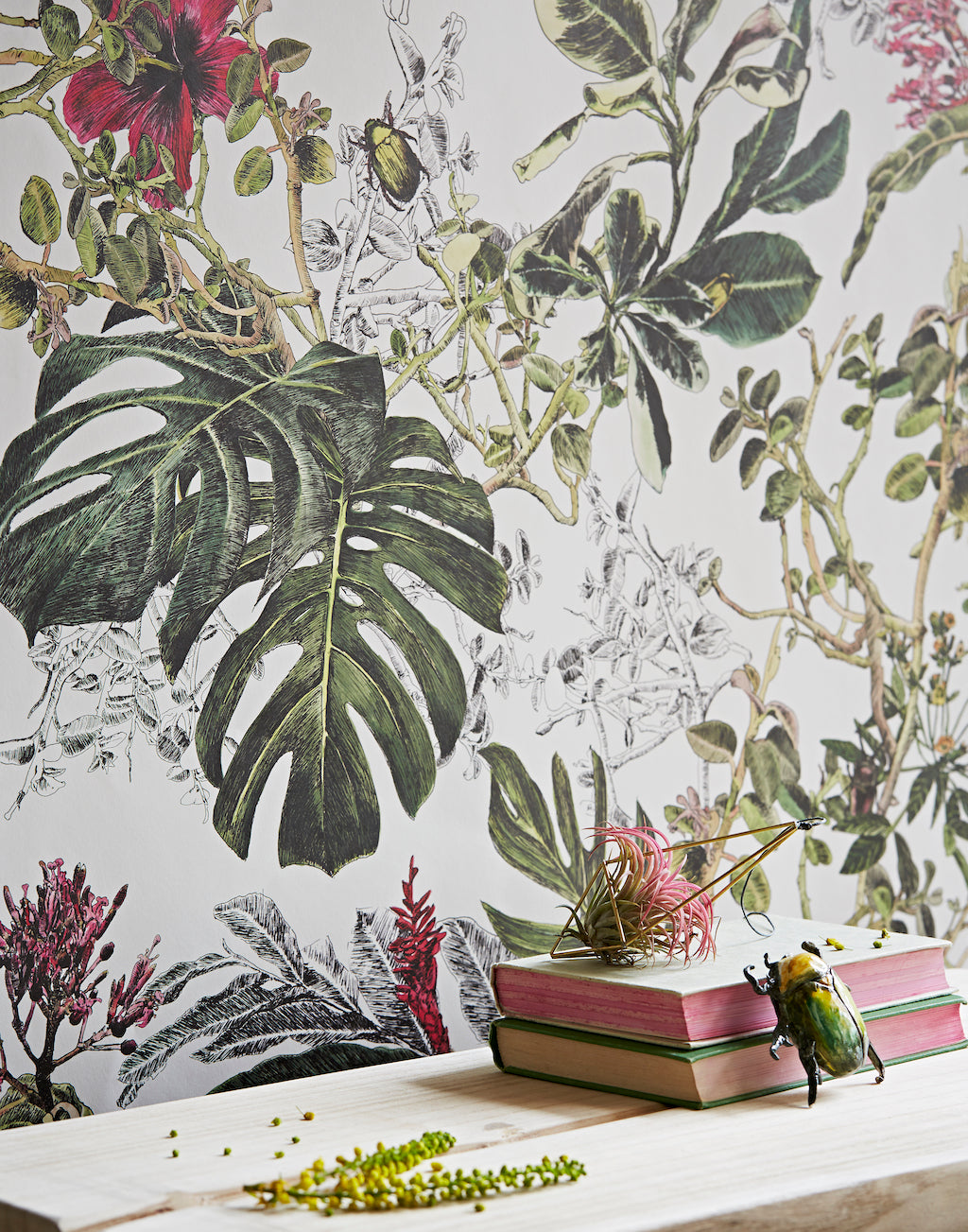 It's evident that design has an effect on our wellbeing. There's a whole psychology around colour and the emotional responses it can stir in us. When it comes to choosing how a room is going to look, we often turn to how we want it to feel and work back from there. If it's a bedroom, we tend to want something that's going to feel intimate and calm. If it's a living area, you may want something more bright and bold. If it's a kids room, you might be after playfulness, maybe even a little bit of magic. 
Today though, we wanted to chat about how you might approach your interior with your wellbeing in mind. Of course, this is a very personal subject and not every space is going to rouse the same kinds of emotions in each of us, but at least drawing attention to this relationship might help you think about how your space could play a part in boosting your mood.
Classic Fish Wallpaper - Blue Green
With this in mind, it's worth considering first about what kind of thing tends to lift your mood. Are you someone that feels elated at the sight of brighter colours? Do floral patterns tend to bring you joy? Is it something more subtle and subjective that you're drawn towards? Maybe brainstorming this question and tying it into the kind of room you are decorating will help you gain a clearer idea of what kind of design would work in your space.
Once you've got a clear idea of the kind of thing that is going to work for your mood, now it's time to flesh out the details. An experience of a space encompasses all five senses, so everything from sight, smell, sound, touch and taste is also going to come into play. Of course, not much in your space is going to be edible, but you may want to think about the texture and smells you want to create as well as the visual elements.
Be sure to keep in mind too that your home is a space you encounter day in day out, so when considering what lifts you up, do also think about whether this is a consistent boost. No one wants to commit to a pattern that nauseastes them after a few months!
It's also worth mentioning that a big mood-booster for many is nature. Natural elements tend to have a grounding effect, connecting your inner world to the world outside, helping the shelter of your home feel part of something bigger. The green of a leaf or the pink of a petal can really open a space up, instantly brightening the atmosphere of a room and enriching your overall wellbeing. 
Summer Tropical Bloom Wallpaper from Seasons
Many of our wallpaper designs are inspired by nature. Most notably Jungle, Summer Tropical Bloom and Fish depict scenes from the beautiful outdoors, from a playful wander amongst tropical trees and the delicate portrayal of flowers in bloom to a courageous dive into the depths of the ocean. Each roll is reproduced from original hand drawn artwork, a design process that was as mood boosting as the final product!
Do take a look at all our wallpaper collections for more mood-boosting designs for your home. 
Read more from our Blog:
A Stress-Free Guide to Furnishing Your Home
Pantone Colour of the Year: Grey + Yellow
Styling our Dino Wallpaper in Pink Green: Q+A with Tara Moon
See Comments