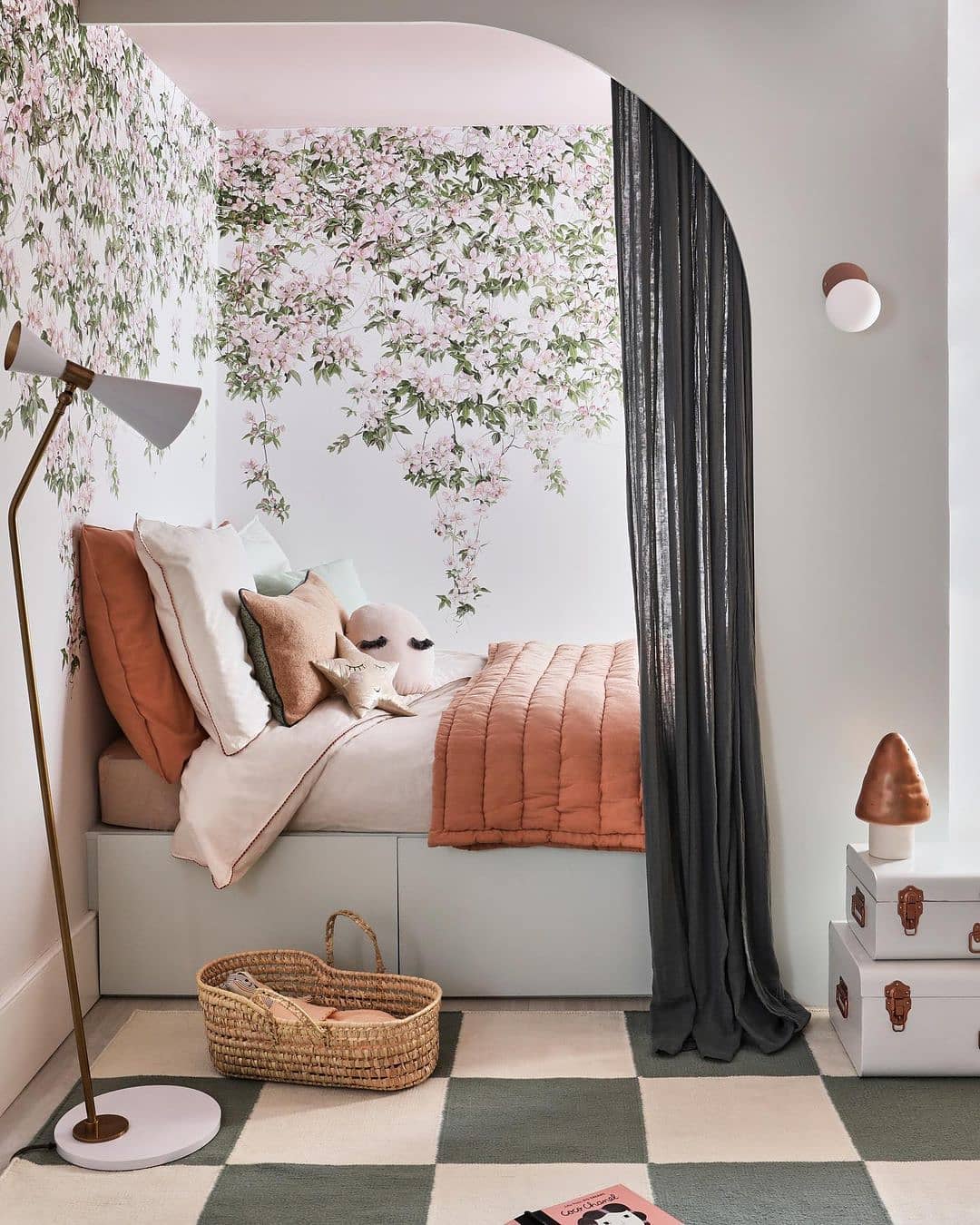 Our Clematis Mural is one of our most enchanting wallpapers to date. Like a scene out of sleeping beauty, this design depicts a canopy of hand-painted flowers, climbing down your wall like the gateway to your own secret garden. Painted at 100% to scale, this wallpaper is reproduced from Sian's original artwork, which involved many months of botanical studies, sketching and painting.
The dreaminess of this wallpaper lends itself beautifully to bedrooms. Its soft, pastel colourings are incredibly calming and work well with cosy, soft furnishings you'd expect to find in your sleeping area. Plus closing your eyes under this enchanting canopy of flowers is just a heavenly way to fall asleep!
With that in mind, today we're sharing some of the ways our customers and collaborators have styled our Clematis Mural in their spaces, plus some paint suggestions from our favourite Little Greene for all our available colourways.
Hopefully, this gives you some inspiration for welcoming this magical wallpaper into your homes, but please don't hesitate to contact our customer support team if you have any questions. 
Style Inspiration for Clematis
Photo: @balickadesign and @will_be_studio
Make it dreamy
First up is this dreamy space from @balickadesign and @will_be_studio featuring our Clematis Mural in White. This pair have really extended the enchanting feel of this wallpaper into the room with some whimsical touches; a grand chandelier, adorable rocking horse and a beautiful hanging feature all accentuate the magic of this design. It feels like something straight out of a fairytale. 
The addition of teddy bears and natural furnishings help this room strike the perfect balance as an imaginative yet practical nursery space.

Styling: Nicki Bamford-Bowes of @andthentheywentwild
Photographed: @still_loljohnsonphotography
A 'secret garden room'
And then we have Nicki Bamford-Bowes @andthentheywentwild's stunning work with Clematis. This is the beautiful space that emerged from her daughter's 'secret garden room' brief and we were totally blown over when we first saw it. Hanging this wallpaper in the corner of the room and with this 'behind the wall' feature brings out the magic we felt when creating this collection.
Like the example prior, Nicki has crafted something utterly dreamy with a hanging feature, neutral decor and cosy furnishings, and the additional touch of the curtain around the bed really makes this space feel special and safe. Adore.
Photo: J Stanley Interiors @jennyferstanley
Keep it simple
For more of an insight into how to style your cascading canopy of clematis flowers, have a look at @jennyferstanley. Her use of this wallpaper is simple yet incredibly clever, hanging the wallpaper so the flowers follow the shape of the door and the height of the bed; a seamless integration that crafts a serene and subtle room to rest.
Photo: @nr_design_bureau
Pick a pastel palette
And finally we have Clematis in the delightful Dusty Blue colourway by @nr_design_bureau. We love how the pattern here has been sectioned off with the blank wall panel to the right of the mural, which adds to the enchanting and exclusive atmosphere of this room. A wonderful example of how even the smallest decisions can have a huge impact on how your home not only looks, but feels.
But what we love the most about this space is how the colours of the wallpaper have been brought out to decorate the space; a simple trick that ensures your chosen design blends beautifully into your home.
With that in mind, here are some paint suggestions from Little Greene that we know match perfectly with our Clematis Mural.
Picking the perfect paint
Colours: Salix 99, Pink Slip 220, Shirting 129, Pearl Colour 100 
Colours: Chemise 139, Kitchen Green 85, Light Peachblossom 3, Sage Green 80 
Colours: Lemon Tree 69, Gauze Deep 165, Pink Slip 220, Knightsbridge 215
As you can see, our Clematis Mural is available in 3 colourways - Pink, White and Dusty Blue.
Styling credit to Charlotte Love for paint sample photos.
And thank you to all our customers and collaborators for sharing your beautiful homes with us.
Read more from our Blog:
New Collection: Fish Wallpaper
A Positive Look at the Year: 2020 Round Up for our Small Design Company
See Comments