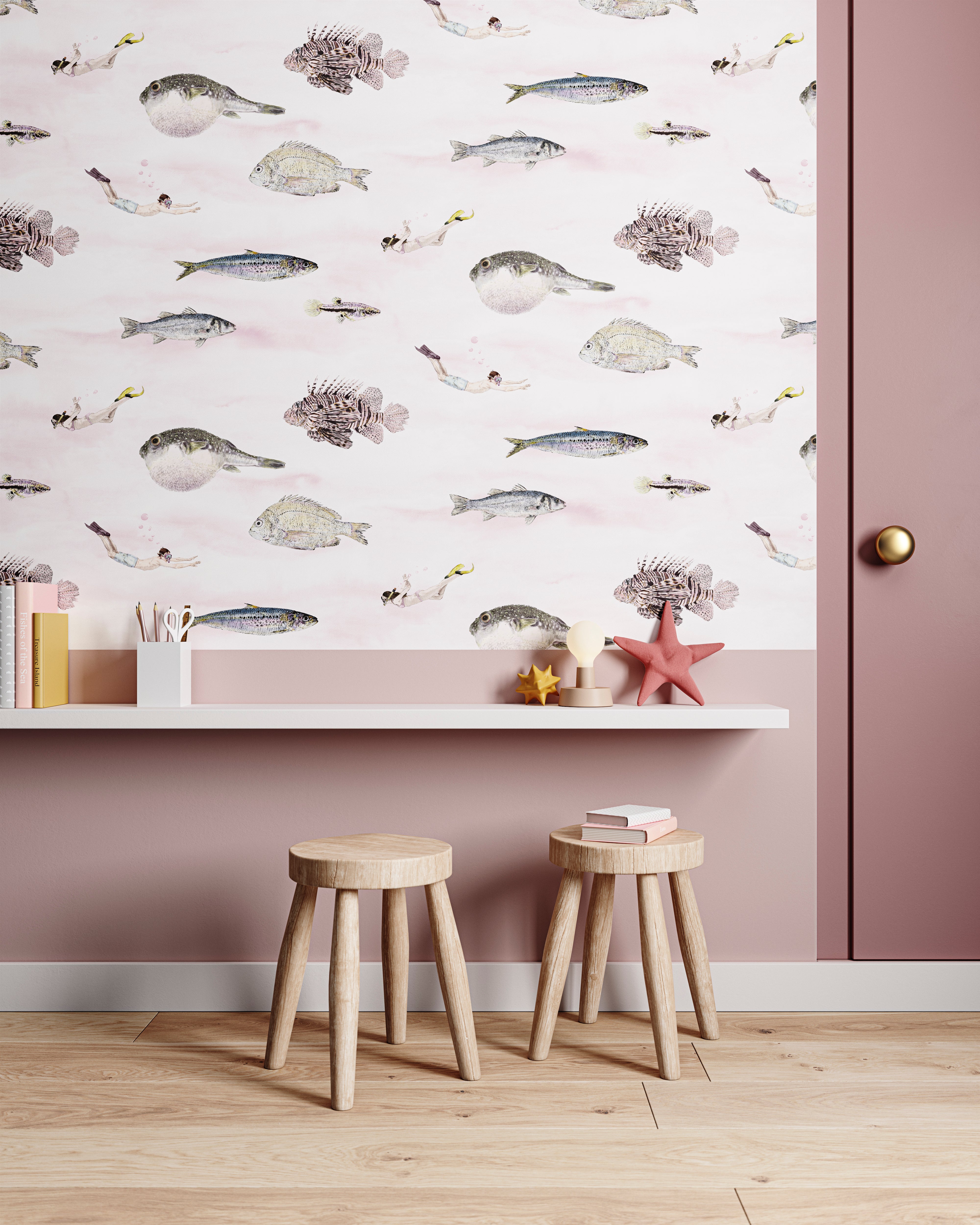 Our Fish Wallpaper is our first dive under the sea to discover what magic lies there. Perfect for nurseries, play areas and teen rooms, bring the wonders of the ocean into your home.
First dreamed up when Sian was snorkelling off Croatia in the crystal clear waters of the Mediterranean, this design puts a playful spin on what you might find under the sea. Featuring an array of fish swimming in different directions, the idea was to depict each aquatic animal off on their own adventure. Infinite, big and blue, we wanted to capture just how bustling the ocean can be, full of fascinating creatures making their way through the depths.
Swimming amongst these fish you'll find snorkelers too, smaller in size than the sea's creatures. In true Sian Zeng style, playfulness is central to this wallpaper, imagining the sea in a whole new way, where large fish command the waterways and humans snorkel amongst them. Looking upon this wallpaper, you get a sense that the sea belongs to its fish.
The outline of this design has been painted in a blend of techniques, mixing traditional chinese inks with digitally drawn colours, painted via Adobe Fresco using an Apple Pencil on an iPad. The result is a wallpaper with Sian's unique illustration style, marrying traditional techniques with new technologies.
Available in Blue-Green and Pink, the Classic version of our Fish Wallpaper makes a fun and fantastical addition to children's bedrooms, from toddlers through to teenagers. It would also bring a splash of colour to work spaces and living areas, brightening the more creative areas of the home. Both colourways blend well with pastel shades and cast an atmosphere of oceanic calm across any space.
This captivating seascape is also available as a Magnetic Wallpaper. Backed with a magnetic liner, you can use our magnets to have your own adventure across the ocean. Imagine moving through the open water as a bear or become a fish yourself with our cast of magical, magnetic creatures.
Shop all versions of the Fish Collection here.
To download images of our new Fish Collection, click here.
Wallpaper styling: Charlotte Love.
Read more from our Blog:
A Positive Look at the Year: 2020 Round Up for our Small Design Company
Task Management Tips from a Small Business Owner
See Comments