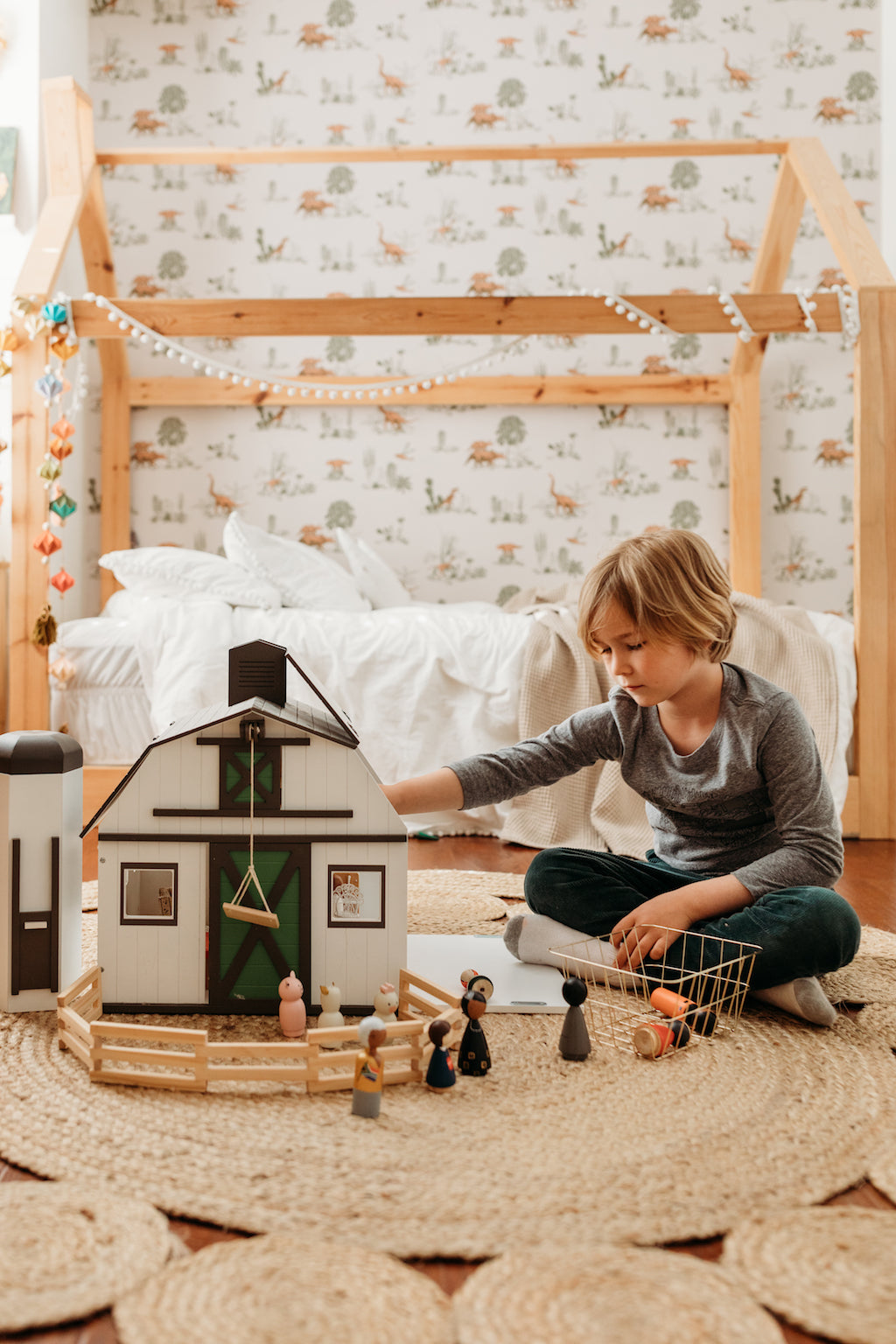 Our Dinosaur Wallpaper is a firm favourite with kids seeking a space they can call their own, where adventures are dreamed up and their imagination can run wild.
And in Pink Green, it's the perfect pattern for a warm, gender-neutral room, whether you are decorating your child's bedroom or play space - its lovely colouring can slot in just about anywhere you desire!
With that in mind, today we are chatting to Tara Moon about the adorable room she created for her son, Sonny, using this wallpaper.
Together with some tips on how to approach decorating your home, a few challenges she faced along the way and Sonny's thoughts about his new dinosaur haven, this blog is super insightful and handy for mothers-to-be, as well as anyone looking to decorate any room in their home.
We'd like to start by asking you what home means to you?
Home is comfort and a place to live the most ordinary moments with the ones you love. Aren't the ordinary moments the most magical?
What was the inspiration behind Sonny's bedroom makeover? What vision did you have when you first started dreaming up this space?
Sonny's house bed is up against a perfect accent wall. So that wall was the inspiration to our lil Sonny room uplift! 
And how did our Dino Wallpaper fit into this vision?
He has been obsessed with dinosaurs but it's hard to find something non-generic in dinosaurs until I came across this Sian Zeng Dino wallpaper and there was that spark we were waiting for! I showed it to him and he couldn't have been more excited about the change.
How did you get going with decorating? Did you have any tools to help you and how long was the process?
I always start by taking screenshots of the inspiration for a room and put them in a grid. Like a mood board on Pinterest. Then we spent a Saturday putting up the wallpaper and putting the other little details together. I also think it's important to donate toys and clothes that don't get played with so the space is nice and decluttered before decorating commences.
Were there any challenges you faced along the way? How did you overcome these?
We were trying to figure out how to fit a desk in Sonny's room but were having trouble finding one that didn't stick out and look bulky. I had found this shelving unit on a marketplace and after some research found out I could add another section with a Murphy desk! It's the coolest ever! Ikea really saved us on that one!
Do you have any tips for people looking to redecorate their child's bedroom?
I would follow hashtags like #kidsroom or #nurseryinspiration for ideas. I'm big on Pinterest but sometimes I find myself scrolling Instagram for inspiration too. If you want to make a huge impact with little effort that's affordable I would always start with wallpaper or paint! And if you're looking for new furniture and a specific look I always look on a marketplace first! You can uplift an entire room on a budget buying second hand and that's my favourite!
And finally, what does Sonny think of his new space?
He loves it y'all! He gets so excited to show it off to friends and family. I find he spends a lot more time in there now, especially after getting him a Murphy desk. He's always doing projects. He also named some of the dinosaurs on his wallpaper and makes up stories for them. It's a hit!
That's so wonderful to hear! You can catch more from Tara and her gorgeous family over on her Instagram and blog - I Dream In Flowers.
Read more from our Blog:
When To Wallpaper More Than One Wall
How To Style Our Clematis Mural
New Collection: Fish Wallpaper
See Comments