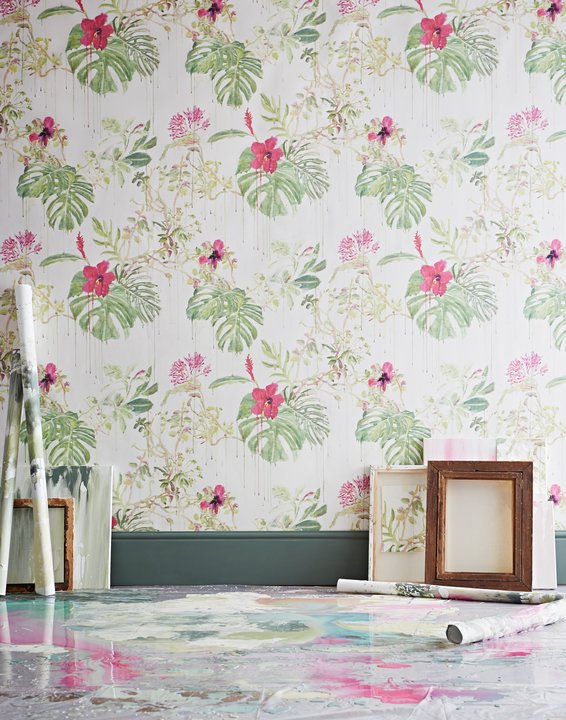 Recently, many of us have been spending the majority of our time indoors. You might be reading this long after its publication date, but there have been lots of adjustments to our daily lives. And now more than ever, our homes are becoming spaces of refuge as we navigate this period of lockdown.
Yet one of the biggest reasons this time of the year is loved by many is because of all the changes going on outside. Spring and Summer bring with them an abundance of green, the smell of grass in its prime and so many beautiful flowers in bloom. A sense of new found freedom comes with these months and with the longer drawn-out days, it's only natural that we are craving and cherishing moments spent outside, taking it all in.
So that's why today we want to draw your attention to some of our brighter and more vibrant wallpaper designs that will ground your home in nature. Inspired by the great outdoors, these wallcoverings not only bring colour to your home, they connect you and your space to what's beyond your walls. Inviting in the seasonal beauty of nature might just help you and your space feel more grounded at a time when moments outside are limited.
Photo:
Veerle Evens
 Styling:
Charlotte Love
Jungle Colour
Our latest wallpaper collection is probably one of our richest in life. Jungle is home to an array of exotic animals, waiting amongst the leaves to share their story. This scene is also home to an abundance of nature, complete with the many trees and plants you'd expect to find in the tropics. Designed in collaboration with French artist Aude Crepin, the intricate shading of this wall mural captures the depth and density of the jungle and really opens your home up to the excitement of the trees. The colour version of this wallpaper would be ideal for children's playrooms and bedrooms where you want to create a sense of adventure. Grey offers a more minimal take on this extraordinary natural scene and would even look at home in a living area or home office, especially if you're the creative type!
Photo:
Veerle Evens
 Styling:
Charlotte Love
Hua Trees Dusty Green
Alternatively, your home may benefit from a calmer interpretation of the trees. Hua Trees has long been a popular choice with homeowners across the world and with two brand new colour variations of this mural, we're excited to see more homes fall under the spell of this enchanting treetop design. Dusty Green is particularly lovely, offering a calm yet stylish take on Spring and Summer's most notable colour. Painted with Chinese inks in a non-traditional style, the diverse tonal qualities of this pattern reflect the thick of the forest, yet create enough distance and space to capture the peace and tranquility of the trees.
Photo: Alexander Edwards 
Styling:
Charlotte Love
Magnetic Clematis Dusty Blue
One of the defining features of a British Spring and Summer is all the wildflowers in bloom and none is more majestic than the climbing clematis. Part of the buttercup family, you've probably been treated to the beauty of this clambouring flower in plenty of gardens and green spaces growing up. Often pink and purple in colour, their appearance and behaviour holds a timeless beauty, climbing down walls to create a canopy that enchants and excites. Ideal for bedrooms and tranquil corners of the home, our Clematis Mural depicts the dreaminess of these flowers and the simple sense of calm the natural world can inspire in us all.
Photo: Jon Day Styling: Charlotte Love
Spring Wild Rain
Beauty is also found in what some would call nature's harsher elements. Capturing the transition from cold to warm, Spring Wild Rain depicts dripping raindrops alongside bright seasonal flowers and botanical leaves. Reminiscent of the light showers that define the move away from Winter, Spring's warmth comes through in soft yet tropical colours, flooding down the wall in an artistic manner. The mural-like feel of this wallpaper makes it ideal for open spaces such as dining rooms and living areas. Pair with real plants to really bring the spirit of the season through.
Photo:
Veerle Evens
for
Made.com
Winter Snowdrift 
Its name might bring snowy scenes to mind but the serenity of our Winter Snowdrift Wallpaper is anything but frosty. More frequently referred to as 'Clouds', this mural-like design depicts a glistening blanket of fluffy, floating clouds that tune into nature's unique ability to provide peace and calm. Soft shades and brush strokes capture the atmospheric beauty of this season, with lots of grounding grey tones that would suit a variety of spaces. If you are looking to craft a nature-inspired home but aren't keen on colour, then this wallpaper is a more understated alternative for you.   
This is just an overview of our range. Many more of our wallpapers weave the wonders of nature into their designs, so have a full browse here to find the perfect pattern for you!
If you are looking to create a more interactive and playful home during this time, then remember all our designs are available as Classic and Magnetic Wallpapers.
Read more from our blog:
How To Bring More Calm Into Your Home
New Colours: Hua Trees in Dusty Green & Blue
See Comments