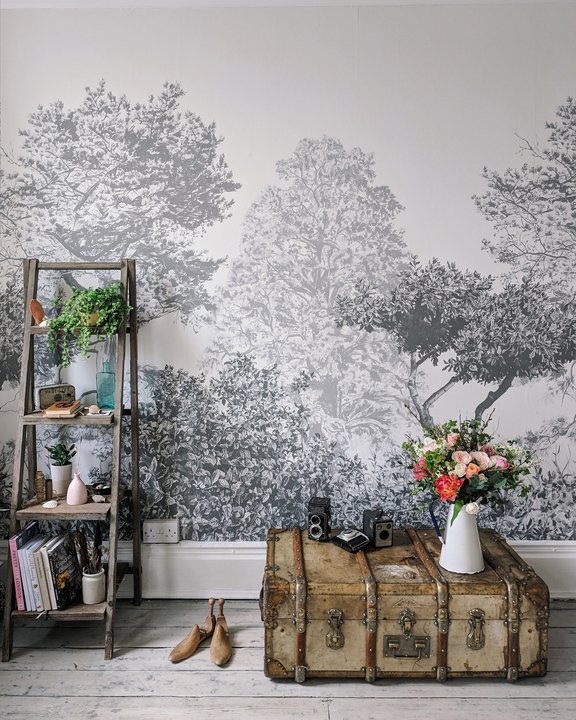 We recently shared the origins of Hua Trees on an Instagram post. What started as Sian following her creative intuition, rather than designing something simply because it would sell, soon became our best selling product to date, and it really changed the way she approached designing wallpaper and wall decorations. 
After a year of sketching and painting the full-scale artwork for this mural, we were so proud to launch such a beautiful tree wallpaper for the home. Reproduced by printers that preserve every single hand painted brush stroke, this mural gives the illusion of original artwork hanging in the home.
While we've already discussed this mural in Pink, today we are sharing how to style Hua Trees in Grey. A more minimal interpretation of this unique mural, you'll find lots of ideas below on incorporating this wonderful wallpaper into a range of spaces in the home. 
Feature wall in master bedroom
Photo and interior design by Sunny Circle Studio
One of our favourite uses of Hua Trees is as a feature wall in the bedroom. The pattern of this wallpaper creates a really illustrative backdrop, rising beautifully from behind the head of a big double bed. We've always found this design incredibly calming, so to see so many of you choose it for your bedrooms makes a lot of sense; waking up under a canopy of trees is such a gentle and lovely way to rouse you from your dreams. 
As demonstrated by @sunnycirclestudio's gorgeous styling, a minimal bed frame works well in front of this wallpaper, with complementary shades of blue featured on cushions and throws. Choosing a lightly coloured duvet cover creates added depth and avoids attention being taken away from the wall. 
Kid's bedroom wallpaper
Interior design and photo by Yoko Kloeden 
Hua Trees works equally well in children's bedrooms too. You can craft a haven of calm for your little one in much the same way as an adult's room by decorating the wall behind your child's cot or bed. With an expanse of soothing treetops overlooking their bed, they may slip a little more smoothly into sleep or nap time.
As their tastes develop and change, half the challenge of decorating your child's room is finding a design that will see them through the years. The neutrality of this colourway makes this wallpaper extremely transitional, easy to style up or down to suit your child. @yokokloedendesign's myriad of teddy bears could be too much with a more colourful design, yet work perfectly with Hua Trees in Grey. These kinds of touches can be easily and cheaply adjusted as your child grows and comes into their own. 
Living room wallpaper
Photo by @hannahargyle
Elsewhere in the home, our Grey Hua Trees Wallpaper has made an equally impactful addition. In the living room of @hannahargyle for example, you will see this mural making a gorgeous backdrop to a more communal space. Placed behind furniture of different heights, Hannah has accentuated the different elements and shades of this pattern, making it both a focal point and a decoration that blends seamlessly into the rest of the room.
The use of plants and homeware made from wood also draw out the natural feel of this design and help craft an interior space that connects homeowners to the beauty of the outdoors.
Style above a chair rail
Interior Design by New South Home Photo: Laura Sumrak
Alternatively, you don't have to paper your whole wall. New South Home's use of a chair rail both ensures this design remains minimal and blended into the overall space, as well as raising the pattern above any furniture pieces.
You may want to consider this for the latter reason if you have chunky furniture or an equally decorative rug or flooring occupying the rest of your room design.
We hope some of the above has provided you with inspiration for styling our Grey Hua Trees Wallpaper in your home. If you're still not sure before making your purchase, then you can order a sample of this wallpaper here.
And if you know this is the wallpaper for you, then you can shop Hua Trees in Grey as both a Classic and Magnetic Wallpaper.
And remember, we recently relaunched this collection with brand new colourways! You can now shop Hua Trees in Dusty Green and Blue.
Read more from our Blog:
Inside out: 5 Wallpapers That Will Ground Your Home in Nature
How To Bring More Calm Into Your Home
See Comments