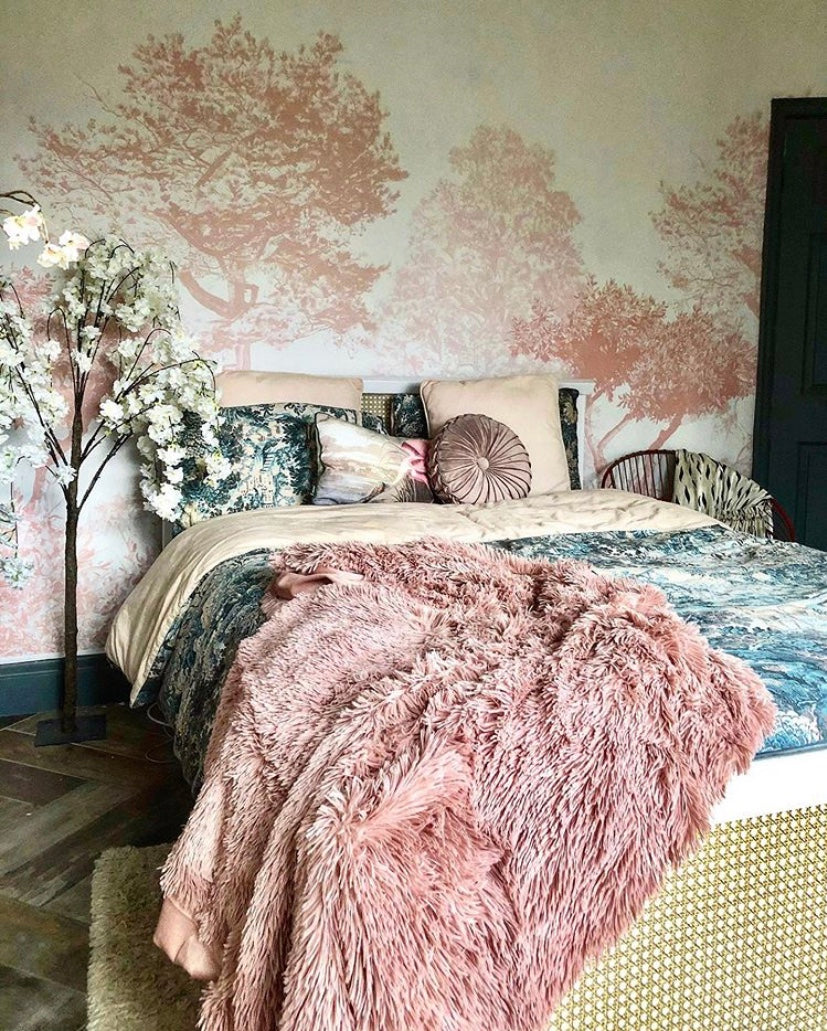 Hua Trees has proven our most popular Mural Wallpaper to date. We've seen homes across the world dress their walls with this beautiful design, falling under the spell of its soft colourings and dreamy brush strokes. Painted in a non-traditional style using Chinese inks, this wallpaper is partly a reflection of Sian's very own mixed cultural heritage.
Typically associated with more feminine rooms, we've loved seeing the creative ways our customers have welcomed the Pink variety of this wallpaper into their homes. Beyond bedrooms for young girls, the pastel shades and diverse tonal qualities of this mural lends itself to calm corners of the home, regardless of gender or age. From children's nurseries to more grown up abodes, we've seen this design defy trends and suit lots of spaces for years to come.
So today, we thought we'd share with you some of the most innovative ways our Hua Trees Wallpaper in Pink has been styled. If you were thinking of purchasing this wallpaper, or you already have, then the following post might give you some ideas on how to make it work in your home.
Styled by Hong Henwood and photographed by Andrea Galkova
Styled and photographed by Caroline Andreoni for Émeli Augier
If there's one thing Hua Trees in Pink does well, it's the fairytale children's bedroom. The pink canopy and cuddly toys styled by Hong for the above little girls room oozes enchantment and really channels the inspiration behind this design. Similarly with Caroline's work, the cascading calm achieved by the use of a bed canopy and soft furnishings really brings the magical, dreamy feel of Hua Trees into the home. 
Image by @emiliakonaszewska
Image by Hannah Argyle
One of Hua Trees most captivating elements, especially for homemakers based in the city, is its natural feel. As its name suggests, this wallpaper depicts an enchanting forest scene, painted to scale in a mural-like fashion that spans the wall. So naturally, our talented customers have paired this design alongside house plants to accentuate its earthy vibe. Plus, indoor foliage is well known to lift the mood of a space and keep you connected to the beautiful outdoors, as seen in Emilia and Hannah's homes above.
Image from Sarah of @nudeandthenovice
As well as its natural feel, Hua Trees brings an undeniable touch of tranquility to the home. The scale of this mural has an impact, yet its diverse tonal qualities don't tend to overwhelm a space; many people have commented on how calming it makes them feel! This gives you plenty of room to play around with different furniture, textures and ornaments, and really craft a space that compliments your wallpaper and feels authentic to you. 
As Sarah demonstrates, you can incorporate plenty of blankets and cushions into your space without it looking or feeling too much. And unlike our Grey colourway, Hua Trees in Pink has a warmth to it, meaning it's a lovely wallpaper to cosy up to in a bedroom or snug. 
Images by Emily Henderson
When we were lucky enough to see Emily Henderson work her magic, the versatility of Hua Trees in Pink really came through. Used in two places - her daughter's bedroom and her living room - it was wonderful to see how this wallpaper could achieve such different atmospheres across the home. 
As a child's nursery wallpaper, pairing alongside a minimal cot/ bed frame, which is light or neutral in colour, will help you craft the calm and peace you want to encourage sleep. And some choice cuddly toys are a must!
In the living room, the gold and blush colour palette works wonders in creating a room that looks light and bright. Many people are hesitant to put framed photographs or prints up against their wallpaper, but if you take Emily's lead of prints on shelves or leant against your wallpapered wall, you can make it work. 
Image by Valeria Lazareva 
Image by Jess Lavers
The logistics of hanging your wallpaper might be something else you want to consider. Whilst we designed this mural with the vision of it filling a whole wall, the creativity of our customers has opened our eyes to some really innovative hanging options. Regardless of how calming Hua Trees feels to some, it may need a bit of breaking up to work in your space. 
Valeria has achieved this perfectly with these separately hung sections in her bedroom. Retaining the features of her space, the borders in the wall really accentuate the different sections of our design, bringing a whole perspective to Hua Trees that we didn't even know was there.
Likewise, Jess hasn't been afraid to cut down our wallpaper to fit the more minimal look of her room. The two built-in bookcases work beautifully alongside our mural and really help work Hua Trees more naturally into her space.
If you need anymore advice on hanging our mural wallpapers, take a read of How To Customise Our Mural Wallpapers To Fit Your Wall.
Image by @papermashuk
If you're still not sure how to make Hua Trees work in your home, then why not purchase a sample and create a moodboard? Looking at other people's homes and assessing their styling decisions is always incredibly helpful, but when it comes to crafting a unique space of your own, visualisation is key.
Order a sample of Hua Trees in Pink, or a sample of any of our storytelling wallpapers, from our online store. 
If you know this is the wallpaper for you, then go ahead and purchase Hua Trees in Pink today.
If you'd like to download high res images of Hua Trees in Pink, please find our Image Bank here.
And if you have any questions about buying your wallpaper, please don't hesitate to get in touch.
Read more from our blog:
New Collection: Jungle Wallpaper
A Special 10 Year Anniversary Notebook
A Decade of Storytelling Wallpapers: Our 10 Year Anniversary
See Comments