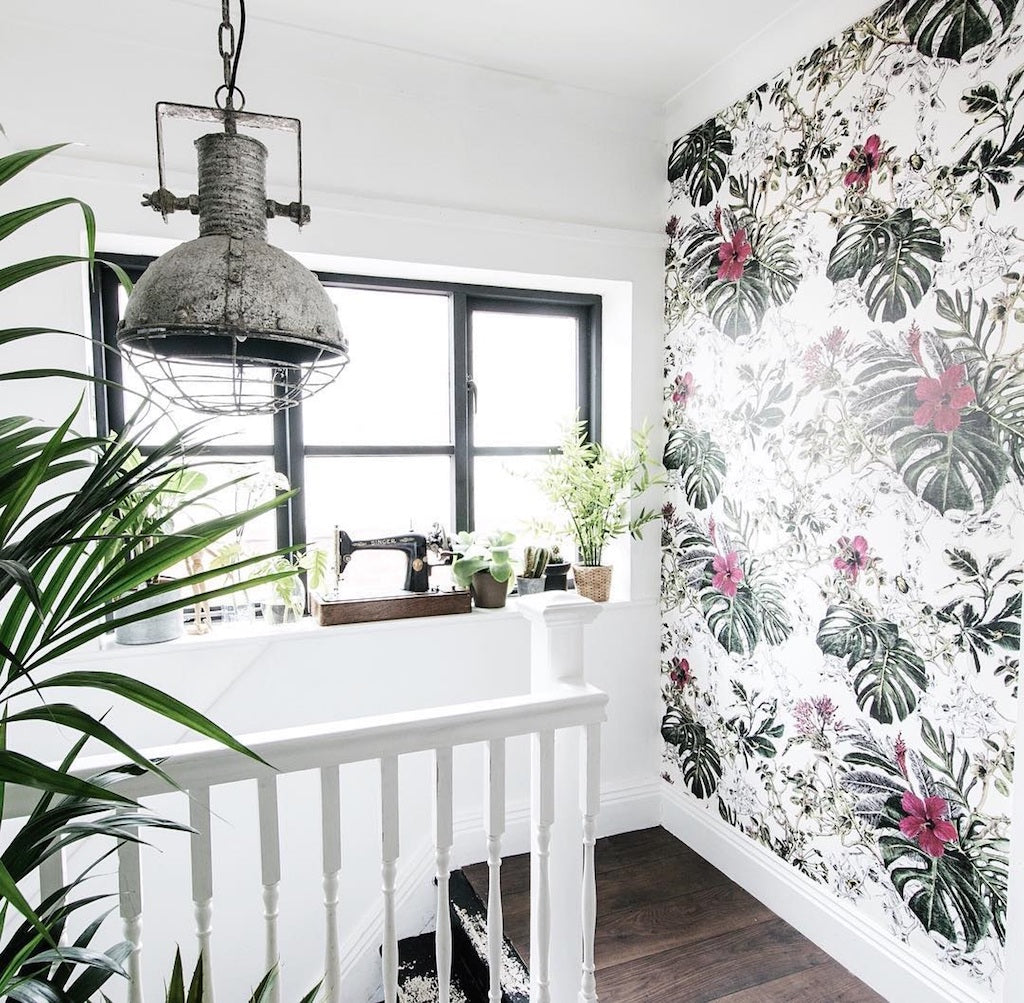 One quarter of the
Seasons Collection
, our
Summer Tropical Bloom Wallpaper
is a bright and bold design for the home. Shades of forest green and fuchsia pink blend together to form this fun plant wallpaper, with loosely painted brush strokes to give a contemporary take on traditional botanical studies. As more of us are enjoying connecting to nature, this wallpaper design is a great way to bring a touch of the outdoors into your interior space.
This wallpaper has also been styled in a number of unique and inspiring ways since we released it. And so today, we wanted to share some of these and give you some ideas of how to style your Summer Tropical Bloom Wallpaper if you decide it's the design for you!
Bedroom Feature Wall
Photo: Veerle Evens for Made.com
One of the most popular locations for all our wallpapers is the bedroom. The scale of our patterns make them lovely, immersive backdrops for rooms of relaxation and rest, which is what bedrooms are all about. They also help you craft a space that feels entirely your own so when you shut your door and take some time to yourself, you can really drop in and escape. 
As we've mentioned a few times, feature walls work best in the bedroom, usually behind your bed frame to make a focal point for your space. With a pattern as colourful as Summer Tropical Bloom, papering one wall and painting the rest in a more neutral colour is the safest way to prevent the pattern from overwhelming your space. 
Summer Tropical Bloom is actually Sian's choice of wallpaper in her home. When placed behind the bed and other furniture, the leaves and flowers almost look like they are growing up the wall, bringing a lush exotic feel to your space. At the same time, the pale background and neutral shading of the smaller details keep this pattern nice and open. Pair with real plants and lighter shades of pink, grey and green for the perfect balance.
Living Room Wallpaper
Photo: Swoon Worthy Blog
A feature wall also works wonderfully in living areas, especially if you have lots of natural light to work with. This living room featured on Swoon Worthy Blog has bay windows, with the adjacent wall papered with our wallpaper, which is nicely positioned to welcome the sunshine and create a really bright space. The extra partitioning in the wall above the paper also creates the illusion of more height, which further ensures the wallpaper doesn't take over at all.
In terms of correlating the pattern to the rest of the room, we love the way pops of pink come through in the cushions and curtains. An earthier shade of green has been chosen for the sofa, but this still works perfectly well with the tropical feel of the room. And then a large plant brings the ultimate jungle vibe. Tall, standing houseplants are another way to elongate your room and make it appear more spacious.
Bathroom Wallpaper
Photo: Leda Sweerts
Have you ever considered wallpapering your bathroom? A less typical space for our products, we were delighted to see Leda Sweerts taking the initiative to try out Summer Tropical Bloom in hers. And what a fabulous room she ended up with!
Positioned by the bath and behind some adjacent tiling, we think this pattern lends itself really naturally to this part of the home. How lovely would it be to recline in the bathtub surrounded by a myriad of tropical plants!
The great thing about this wallpaper is that they deliver all this, without losing the space you would if you opted for the real things. Yes you can still have a plant or two in the flesh, but with many bathrooms limited for space, Summer Tropical Bloom is a great option if you're after a botanical bathroom feel.
Landing/ Hallway Wallpaper
Photo: Kate Young
The more transitional areas of the home work with this wallpaper too. Lots of people prefer to keep wall art to their landings and hallways anyway. This might be a good option for you if you tend to fill your space with lots of furniture, or you have lots of framed art or photographs to hang.
Kate Young's landing area is the perfect example of how creative you can get with this part of your home. Just because this isn't a room per say, you can still craft a lovely haven to walk through. Sometimes the spaces that link the different areas of a house are key to piecing it together into what feel like a home.
Here, the dark wooden flooring and bright white walls create a lovely contrast. We particularly love how the statement metal light fixture plays into the urban jungle feel.
Tiny Home Wallpaper 
It seems van fever has officially hit us all and more people than ever are keen to get their hands on a home they can take on the road. Many are converting from scratch or adding their touch to something already van life ready. That's where our wallpaper comes in.
You can take a leaf out of Jane Ashton's glamavan (called Brigitte) and paper the whole interior if you want, but even one wall of your mobile home might help you transform your vehicle into something more homely. This wallpaper is especially great for mobile homes because of how natural it is. We can just imagine you throwing open your doors on a beautiful summer's day and your space blending beautifully into what lies outside.
Paper Your Furniture
Photo: Swoon Worthy Blog
You may even avoid walls altogether and use Summer Tropical Bloom to brighten up your furniture. We never realised how nicely brass went alongside this design until we saw these drawers by Swoon Worthy Blog.
Our pattern has been so beautifully positioned that it looks as if the drawers were hand painted directly. Such an innovative use of our wallpaper and really brings something different to your space.
Decorative Art Hanging
Photo: Kaylyn Hewitt from True Vine Studios
It's also worth mentioning that our wallpapers don't have to be used for domestic purposes. They work just as well in creative spaces.
Having been reproduced from original hand painted artwork, the expanse of leaves and flowers in Summer Tropical Bloom give the illusion of a piece of hanging art that would work wonderfully as a backdrop to photoshoots and exhibitions.
You may also be interested in the Magnetic version of this wallpaper for an added interactive touch to your space.
If you have any questions or other suggestions of styling this beautiful botanical wallpaper, please feel free to leave a comment below.
Read more from our Blog:
How To Style Our Hua Trees Mural in Grey
Inside Out: 5 Wallpapers That Will Ground Your Home in Nature
See Comments