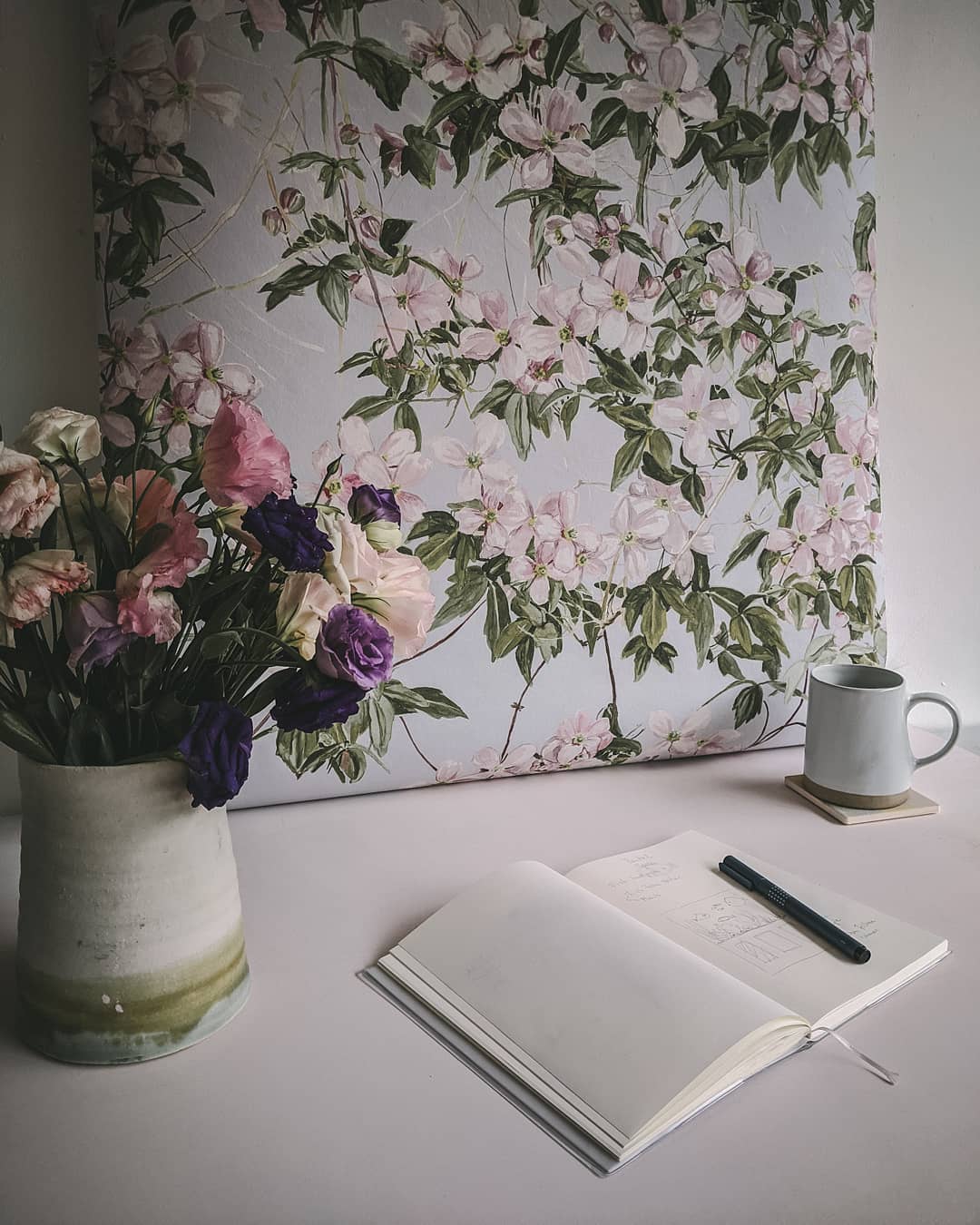 Autumn is fast approaching and so are all the cosy feels that come with this season. It's a time to hunker down with a mug of something warm in the comfort of your home. But if you haven't got an interior that quite matches the seasonal vibe, then the following wallpapers might be of interest to you. Lots of our designs come in a number of colourways to help you craft all sorts of atmospheres in the home. Read on for our cosiest wallpapers this autumn and winter.
Our first wallpaper collection and one of our most popular designs to date, Woodlands has a warmth that works wonderfully in bedrooms. With an enchanting expanse of illustrated leaves and fantastical creatures, this pattern will transport you to the shelter of the trees.
The Brown Pink version of this wallpaper brings a subtle colour to the home, almost earthy in its tone. As we head into autumn, we love the correlation between this wallpaper's colourings and the falling leaves.
Paired with plenty of cushions and a fluffy rug, this design makes a cosy placement in a play corner or snug. A dreamy bedspread and canopy adds to the enchanting feel of this wallpaper, making it ideal for kids bedrooms. We can also see this pattern working well in living areas with a log fire and some cosy throws.
Photo: @rosegeorgedesign
Photo: @alina_und_die_3_zwerge
A Dinosaur Wallpaper might not sound like the most autumnal of designs, but the pink in this pattern is tinged with the colour of the turning leaves. Almost orange in some light, we love the warmth this wallpaper brings to the home. It's also incredibly playful, which could help you liven up your home through the winter months. 
A popular decoration for children's bedrooms and nurseries, you can play with pairing your Dino Wallpaper with an array of natural shades, starting from more neutral, off-white colours all the way through to deeper and richer browns. Macrame home accessories also seem to go perfectly with this wallpaper, perhaps using this to bring out its orange undertones.
Photo: @raising.little.darlings
Photo: @moonchild.atelier
Our Clematis Mural may be one of our most floral designs to date, but that doesn't resign it to summer. The Dusty Blue version of this wallpaper has a real atmosphere to it, bringing a bit more depth and drama than our other colourways, perfect in a room where you might light a candle or two and cosy on down with a book.
Delicately painted petals with a fairytale feel climb down from the top of this mural, perfect if you are looking to craft a restful room. Real flowers might not be available all year round, but do make the most of them as summer comes to a close for an added touch to your space. You may even want to dry a bunch (hang them upside down for a few weeks) so your vase doesn't go empty. 
Photo: Sian Zeng
Shop Sian Zeng's full range of Wallpapers and Wall Decorations for design-led homes here.
And do check out the rest of our blog for more wallpaper styling tips and home interior inspiration.
Read more from our Blog:
Styling Tips For Summer Tropical Bloom Wallpaper
How To Style Our Hua Trees Mural in Grey
Inside Out: 5 Wallpapers That Will Ground Your Home in Nature
See Comments