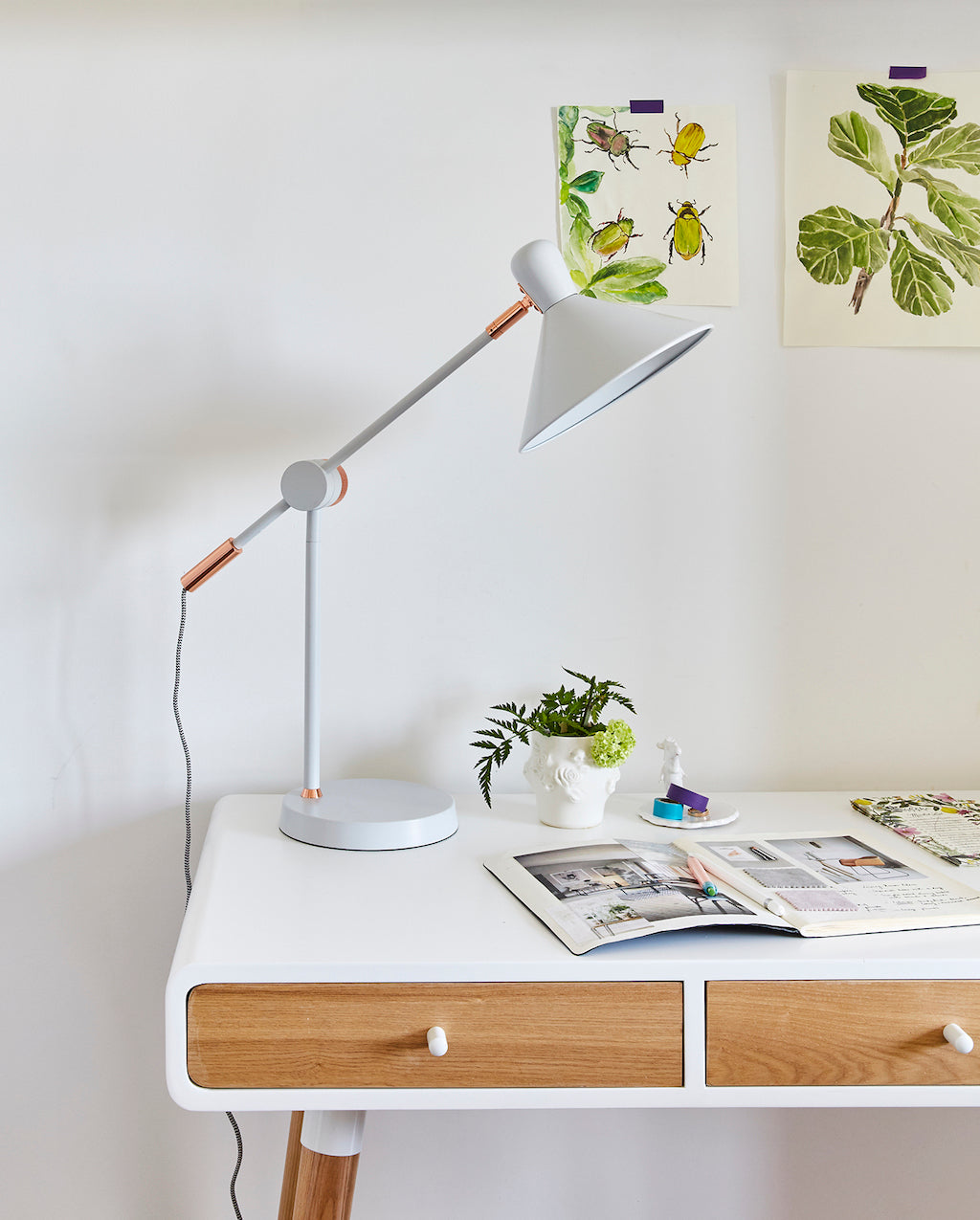 It's a strange and uncertain time for many of us as we publish this post. You might be reading this after the worst of the global coronavirus pandemic has passed, but right now as we write, the situation is having a huge affect on the daily lives of people all over the world.
Most of us are working from home, with time spent out of the house discouraged as we collectively tackle the spread of anything. In the UK now, anything but 'essential' shops have been forced to close their doors and as schools and universities shut down their physical sites, many of us are finding their homes more occupied than usual. 
So with this in mind, we wanted to put together a post that suggests some ways you could bring some calm and clarity to your home. This doesn't just have to apply to the current situation - calm is always an incredibly important element to any home - but perhaps now more than ever, you might be craving some serenity… especially if you're working from home with children to entertain as well!
Below you'll find a few ways we've been crafting calm in our homes as we move through this uncertain time. If you have any ideas of your own, please feel free to leave them in the comments below.
Set up a separate space to work in
Whilst remote working has risen over recent years, it can be difficult to fully switch off when working from home. Now many of us have been thrust into this situation all of a sudden, you might be struggling to transition smoothly from your working day to a relaxing headspace.
That's why having a dedicated workspace is so important. Not only will it help you be productive when you need to be, it will help you leave the worries of work behind as you move into the calm of the evening. If you have a separate office room then great, but even if it's just a desk in your bedroom or one half of the dining room table, having a surface solely for work is vital if you want to craft calm elsewhere. 
Even if it's small, try and bring some order to your corner of work. Put your pens and pencils in a jar, neaten up any notepads and other equipment, write a to-do list each morning and fully shut your laptop and move away from this space once you've completed the day's tasks. Setting up boundaries is key to crafting a home that you can work and play in.
Why not take Sian's lead and pin up some inspirational images in your workspace? Photo by Veerle Evens for Made.com
Keep things as clean and tidy as possible
This goes for all corners of the home, even areas you might feel more relaxed and switched off in. Now you're probably spending more time in your space, things tend to get used and put out of place much quicker than usual. Keeping on top of this won't only ensure your home stays looking lovely, but a tidy house really does help you achieve a tidy mind. 
Be clear on what different areas of your home are used for
Clarity is key to creating a calm and grounding atmosphere in your home. There's a reason homes aren't just one big space that we inhabit, but often lots of small spaces that come together to form a place of relaxation, rest and belonging. Reserve food and eating to the kitchen and dining room where possible and keep your living spaces free from work. This means when you do come to rest there, you aren't associating it with anything else.
Even if you have a studio apartment, you can divide up your space into sections, each dedicated to the different aspects and activities a home should provide. Keep that meditation corner near the window just for quiet moments to yourself and don't give into the temptation to eat all your meals in bed. Structuring your space can help you structure your thoughts, and this in turn helps you to find moments of peace and quiet when you need to.
Why not have your own reading corner? Photo by Veerle Evens featuring Hua Trees in Blue
Have a space just for you
Within these different sections of the home, make sure you have a space just for yourself, especially if you share your house with other people. This might be your bedroom, a reading corner, a yoga or meditation space or even a favourite chair.
This might be difficult if you're part of a family, but perhaps discuss with your partner or other members of your clan about carving out a corner of the home just for you, promising the same to them in return. Being respectful and communicative with your household is key to creating calm for yourself and others. 
Sian has created her own yoga space in her flat to find some extra calm
Bring the outside in
Houseplants are often cited as having a calming effect on indoor spaces, and now more than ever, we suggest bringing some nature into your home. Plants and flowers can make you feel more connected to what's beyond your walls, something especially important as many of us are facing limitations to our time spent outside. In moments where your space might feel cramped and confined, a bit of greenery can open up your mind again with thoughts of the wide outdoors.
Plants also need looking after. Having something to care for and nurture, especially if you live alone, can help structure your time and provide an incredibly calming aspect to your day.
And if you aren't keen on the responsibility of real plants, or perhaps you have allergies, a number of our wall designs take inspiration from the beautiful outdoors. Check out our Seasons, Clematis, Hua Trees and Jungle Wallpaper.
Fill your home with plants. Photo by Veerle Evens for Made.com
Tap into scents and textures too
It's not just about how your space looks either. The atmosphere of a room can come through in a number of different ways, including the smell and feel of it. Candles, incense, essential oils, blankets, cushions and throws all play a part in crafting calm in your home.
Play around with what you already have first, swapping pieces from different rooms to see if this brings more serenity to your space. If you think something is missing, then browse online, making sure to shop independently where possible to support designers and makers in this challenging time. Like us, many still have their online stores open and would appreciate the love.
Make your bedroom as cosy as possible. Photo by Joanne Crawford featuring Summer Tropical Bloom Wallpaper and Sian's favourite diffuser from Rituals.
Make your home interactive, playful and adaptable 
Lastly, we couldn't write a blog post about the home without mentioning the importance of interacting with your space. Building a connection to your house - somewhere that shapes you and the people you live with - is key to associating this space with clarity and calm. Essentially, you need to know and love your home to be able to fully relax and unwind in it. 
This may just be as simple as looking at your space and thinking about how you can make it your own. Putting up some photographs or a series of prints might be enough for some, but a lick of paint might also be on the cards. 
You may be reading this post because of your love of wallpapers, so if that's so, then do take a look at our fun and playful range, which also includes our Magnetic Wallcoverings and removable Fabric Stickers. These products are interactive and adaptable, helping you transform your home into its own imaginative storybook unique to you and your family.
If you have anymore suggestions about how to bring calm into your home, then please do leave them in the comments below.
Read more from our blog:
New Colours: Hua Trees in Dusty Green & Blue
How To Style Our Hua Trees Wallpaper in Pink
See Comments