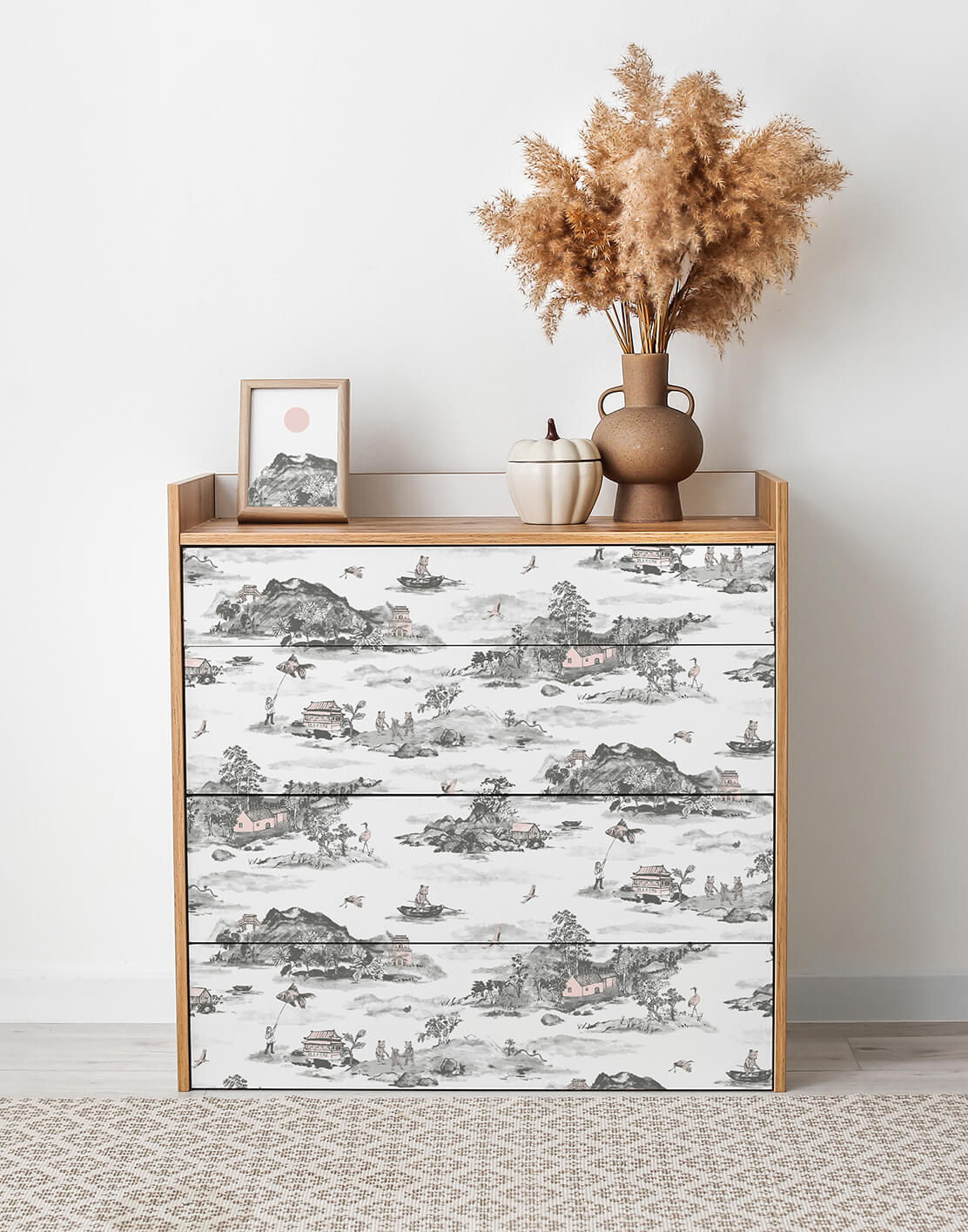 DIY enthusiasts (or even DIY beginners) may be interested to see that our wallpapers aren't only for walls. We've picked three of our favourite ways to upcycle a bland item of furniture into a statement piece, using wallpaper.
We love the idea of making over furniture, just as much as we love revamping rooms. Not only does it prevent something unwanted from being thrown away, the end result can be a unique and personal addition to a space.
A lick of paint on a flea market find can make a huge improvement, but the addition of wallpaper can transform it into a fun or elegant piece. It's also a great way to use up some leftover wallpaper! Read on for more inspiration.
Pictured above - Chest of drawers upcycled with Mountains Wallpaper
Drawer fronts upcycled with wallpaper
We loved what Kimberley from Swoonworthy did with our Summer Tropical Bloom wallpaper on this unloved chest of drawers (the fourth time she's done a makeover on this piece!). 
Kimberley chose this pattern for her living room wall so having the same design on a chest of drawers helped to tie her chosen olive and raspberry colour scheme together. She chose Mod Podge to affix it to the drawer fronts and a foam brush to smooth it down. Very simple with great results. Check out her DIY tutorial where she explains how she did it.
Another nice touch is to line the inside of the drawers with the same wallpaper. And don't forget that switching out the old drawer handles can transform the style of a chest of drawers completely.
Wallpaper on a room divider
This look draws inspiration from the ancient Chinese folding screens that became popular in Europe in the 17th and 18th-centuries. The fashion designer Coco Chanel was an avid collector. She had 8 Chinese folding screens in her Parisian apartment and is believed to have owned 32 in total! 
The one pictured here has been painted pale green to match our Hua Trees Mural wallpaper in Dusty Green and we love how it frames the image. Just make sure the screen has completely flat panels to adhere the wallpaper to.
This is a great example of how wallpapering one of your own furniture pieces can bring instant colour and pattern into a space - especially useful if you're renting and aren't allowed to tamper with the walls.
Line the back of bookshelves with wallpaper
One of the simplest wallpaper hacks? Using it to line the back of a bookshelf. 
Storage is something we can't get enough of and as much as we might like our shelves to look as curated as the magazines, it's not always practical. A wallpaper backdrop can make your shelving look a lot more cohesive. 
Whether it's an alcove with floating shelves (like the one pictured above with Autumn Cloud Forest wallpaper) or a freestanding bookshelf, add some wallpaper to the back panel and hey presto! A storage area with added flair.
Take a look at our wallpaper collections and you'll find plenty of inspiration for your next DIY project, as well as your walls!
Read more from our blog:
When to Wallpaper More Than One Wall
Wallpaper and Wellbeing: Mood-Boosting Designs
Floral Fun: How Floral Trends Our Wallpaper Designs
See Comments