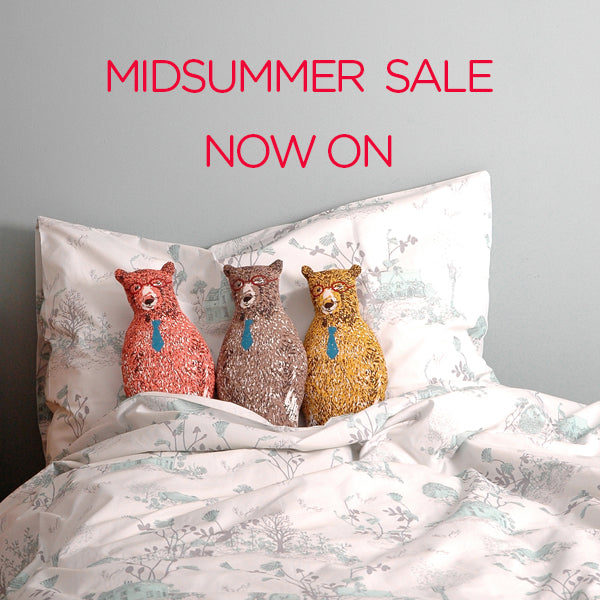 We've been really excited waiting to finally be able to announce that our new Woodlands collection is here and ready to go! Featuring frog princes, flying pigs and a host of other characters, there's lots of choice to mix and match for your perfect woodlands combination!
 There were three in a bed and the little one said... First up- bed linen. We've put our favourite wallpaper print onto pillowcases and duvet covers, in beautifully soft 200 thread count cotton. We've got it in two brand new colourways, soft pale blue and grey, and a striking pink and brown.
Available in single, double and king duvet sizes, our bed linen is great for kids or adults, anyone who wants to fall asleep surrounded by a whimsical woodland!
We've also taken some of our favourite characters from the woodlands print and brought them to life in cushions and art prints for your home.
 A nice comfy pile of cushions seems like a great idea!
The cushions are a linen-cotton mix, backed with linen, and filled with luxurious feather cushion pads- so they are very comfortable as well as looking great! Each design also comes as a giclée print- so if you're having trouble choosing, you can get both!
Piggy friends together!
 A little cottage in the woods..
Visit our web shop to see the full range of products. We'd love to know about your favourites - tweet us @sianzengstudio or talk to us on our Facebook page!
See Comments