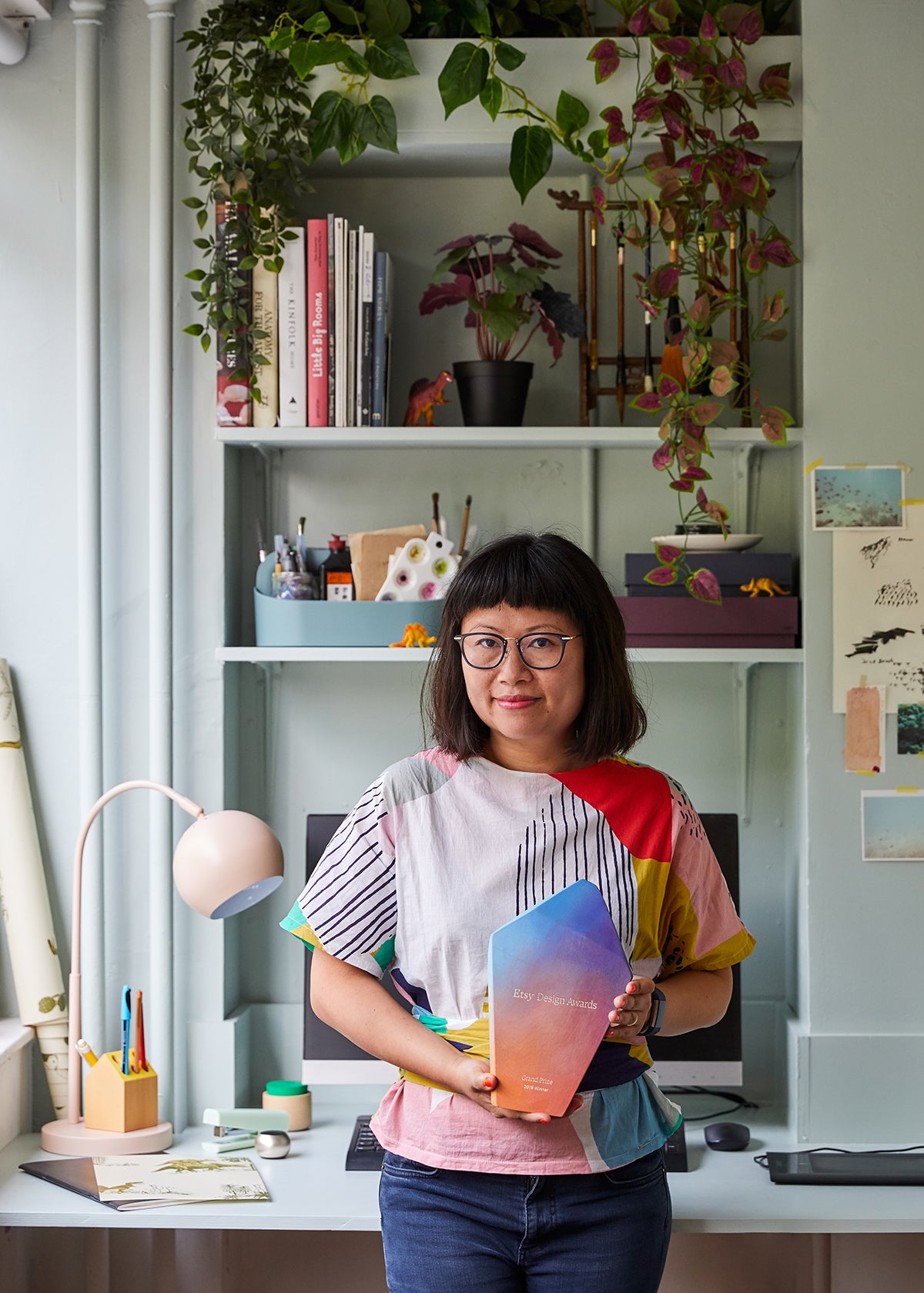 We are beyond excited to announce that we are this year's Grand Prize winner in the Etsy Design Awards. The global search for the best of Etsy kicked off at the beginning of this year and when we heard we'd been selected as a finalist in the Inventive Decor category, we never dreamed of being crowned Etsy's overall grand prize winner!
Click below to find out from Sian what it feels like to win.
Image taken by Veerle Evens. 
Thousands of applicants entered the Etsy Awards and we feel proud to have been awarded the grand prize. We started our journey on this platform 10 years ago and we are thankful for the support and custom it has brought us over the years. To find out more about the Etsy Awards and the talented finalists we were chosen alongside, please click here.
The winning piece is one of our most beloved wallcoverings from our toile range - our Magnetic Dino Wallpaper. The second in our collection of imaginative, dreamy wallpapers, this design has captured the hearts of many. From its popularity on Instagram among talented designers and influencers, to its feature on the Discovery Channel and in Canadian TV Show 'The Disappearance', our Dino Wallpaper has been seen and requested by many.
Set apart by its magnetic feature, we might not be the inventors of dinosaur-themed wallpapers but Sian certainly put her spin on a really popular pattern for the home. In-keeping with our storytelling essence, this design imagines a bit more to the dinosaurs you read about in prehistoric textbooks. From a smaller triceratops getting a piggy-back from a bigger one before clambouring up some rocks, to helicopters with wings flying over little clusters of cacti, this wallpaper pattern holds the same visionary essence that put Sian Zeng on the map. Our Dino Range is also available as a non-magnetic Classic Wallpaper for those who love the pattern but don't necessarily want to invest in a magnetic wallpaper for their home.
Since its release back in 2014, our Dino design has become one of our most popular collections to date. Prior to this wallpaper, we had one other collection, a Woodlands Wallpaper that was put into production because Hilary Duff placed an order for our first batch. Now we're a decade into the journey of our company and what better way to mark our 10 year anniversary than with such a poignant prize.
 Photo from Beebout Design.
It's been a real delight to see our Magnetic Dino Wallpaper in so many different homes and spaces across the world. Sian first came up with the magnetic element when researching the story of Little Red Riding Hood. Inspired by its evolution over the centuries, she didn't want to just design wallpaper where the story was fixed. Fascinated by the power of interpretation, Sian was keen to see how the same setting with the same characters could bring about so many different stories. Popular with adults and children alike, it's been wonderful to see so many people bring the power of storytelling into their home.
Here's how it works. With an additional liner that you place on the wall before you hang your paper, our magnetic wallpaper means it is receptive to our magnetic cast of characters, speech bubbles and illustrations. Some people think our magnetic wallpaper is a giant magnet that people will get stuck on if they're wearing something magnetic, such as jewellery. But don't worry, you won't be peeling friends with chunky metal necklaces off your walls anytime soon! The best way to imagine how our wallpaper works is like a fridge or metal cabinet, attracting magnetic things such as our cast of characters.
On our winning piece, Etsy Trend Expert Dayna Isom Johnson says, "Sian's wallpaper is an incredible example of how sellers can use their imaginations to transform everyday items into something completely innovative and unexpected." To hear more about the Etsy Design Awards 2019, please click here.
Image taken by Veerle Evens. 
We are excited to receive the prize money, which will allow us to launch more collections this year. 2019 will be a year to remember and we can't wait to share with you all more stories, more imagination and more wallpaper designs that bring art into your home.
To download high res images of our award and winning piece, please follow the link here. 
Read more from our blog:
Floral Fun: How Floral Trends Have Influenced Our Wallpaper Designs
Simple Ways To Visualise Our Wallpaper in Your Home
See Comments