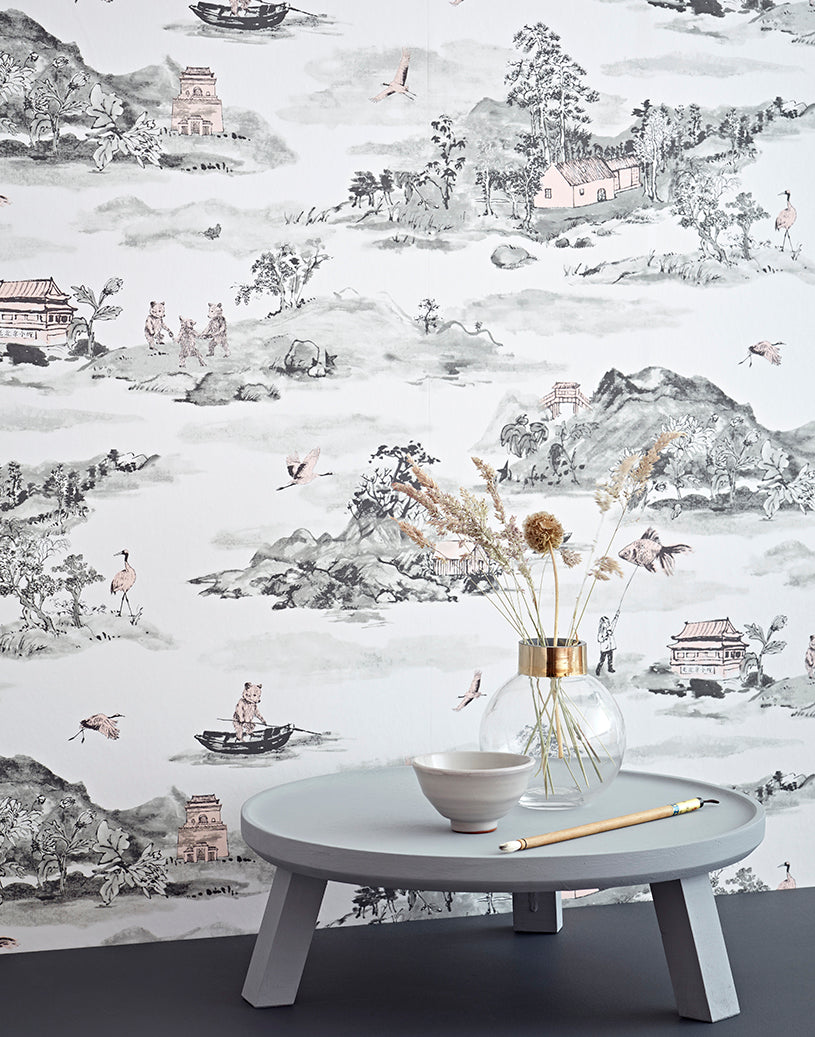 We are very pleased to announce the official launch of the Sian Zeng Mountains Collection. Our new Mountains collection connects Chinese painting and European illustration styles to create a spectacular landscape of misty mountains and time-honoured Chinese houses, home to bears looking for their next adventure.
Available as a classic wallpaper in tones of grey and pink or dusky blue and peach, the Mountains pattern is also available as a magnetic wallpaper. A signature feature of our storytelling wallpapers, the magnetic versions are backed with a magnetic liner, offering a beautiful backdrop on which you can act out your own stories with a cast of illustrated character magnets.
Magnetic Mountains Wallpaper £253- £265 /10m roll
Weaving a story through classic and contemporary detailing, this is the tale of a brave young bear helping a semi-star to find its missing half. The brave bear must venture through mist-covered mountains, sail across wide oceans and sneak past cascades of watchful birds on the adventure of a lifetime. Will the brave young bear ever find the other half of the star? Discover the new Mountains Collection.
Classic Mountains Wallpaper - Grey Pink £69/10m roll
Mountains Wallpaper in Blue Peach - perfect for a child's bedroom.
Photography: Jon Day Styling: Charlotte Love Girl model: Anya Soanes
See Comments