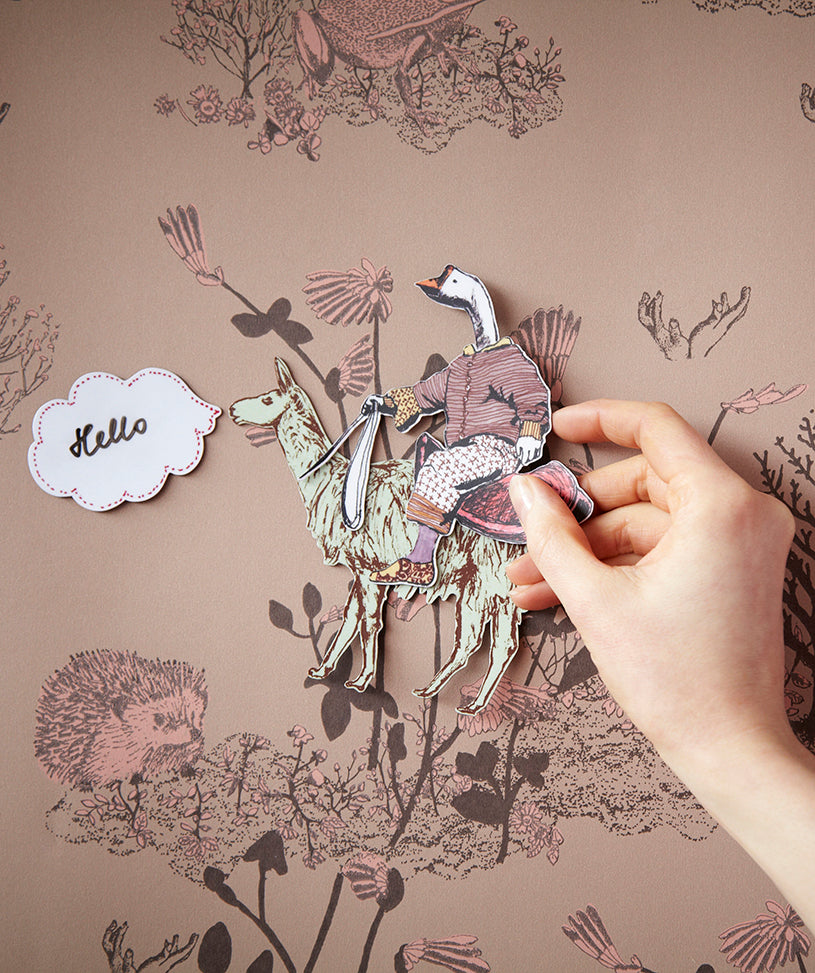 Where it all began
Much of Sian's inspiration for her work comes from stories, be they traditional fables or her own life experiences; stories that are funny, weird, or a bit surreal. As a small child in Hungary she was fascinated with the beautiful illustrations of Hungarian Folk Tales, which she obsessively copied and altered to tell new stories to her classmates.
Sian's interest in visual storytelling led her to create an interactive magnetic wallpaper for her final year degree show project at Central Saint Martins. The magnetic wallpaper allowed visitors to act out their own stories using a cast of magnetic characters which interact with the illustrated landscape in the background.
Playing with the Dinosaur magnet
It was not until the US singer/actress Hilary Duff ordered six rolls of the magnetic wallpaper for her child's bedroom that the wallpaper was put into production. As her child's due date was fast approaching, Sian raced against the clock to transform her prototype into an actual consumer product. In the end, the magnetic woodlands wallpaper was created and successfully delivered to Hillary in her own bespoke Khaki Blue colourway.
Magnetic Khaki Blue Woodlands Wallpaper £253-£265/10m roll
How is the wallpaper magnetic?
Magnetic Wallpaper Composition
Our unique magnetic wallpaper is created in three stages. The magnet receptive liner is pasted onto the wall first like a normal wallpaper using the wallpaper paste we supply. This will make the wall receptive to magnets. Secondly, hang the white lining paper over the magnet receptive liner. Our wallpaper is then pasted over the lining paper to create a fully-interactive landscape. You must leave sufficient drying time between each stage. Once it has dried, we recommend hanging a layer of white lining paper before pasting our wallpaper, for a better finish.
Our classic wall coverings
All of the magnetic wallpapers are also available as classic wallpapers. The idea behind each wallpaper is to create a mesmerising landscape for storytelling and adventures, therefore allowing them to work both as magnetic and classic wallpapers.
Classic Hua Trees Grey Wallpaper - £175/2.1m x 3m
One of the most popular collections from Sian Zeng is called Hua (華) Trees, meaning  Chinese Trees - Hua literally means 'prosper' and is used to refer to Chinese people. Painted using Chinese inks in a non-traditional style, Sian's Hua Trees mural is a reflection of her European and Chinese cultural heritage. When developing this collection, Sian wanted to design a mural which created an immersive environment for storytelling. She imagined parents reading stories to their children beneath the pretend shadows of surreal pink; she imagined families of dreamers camping out and swapping stories below the branches of elegant grey trees.
Summer Tropical Bloom Wallpaper - £195/10m roll
The Seasons collection story captures the ethereal beauty of the changing seasons with bold dramatic designs. It takes you through four surreal chapters expressing four different moods, from the calmness of the magnificent autumn plants growing amongst the clouds, to blissful floods of colourful dripping rain in spring.
What's next?
The new wallpaper collection is the story of a brave young bear helping a semi star find it's other half. The brave young bear must venture through misty mountains, sail across wide oceans and sneak past cascading watchful birds, on the adventure of a lifetime. Will the brave young bear ever find the missing half of the star?
Bear asking the semi star what's wrong.
See Comments