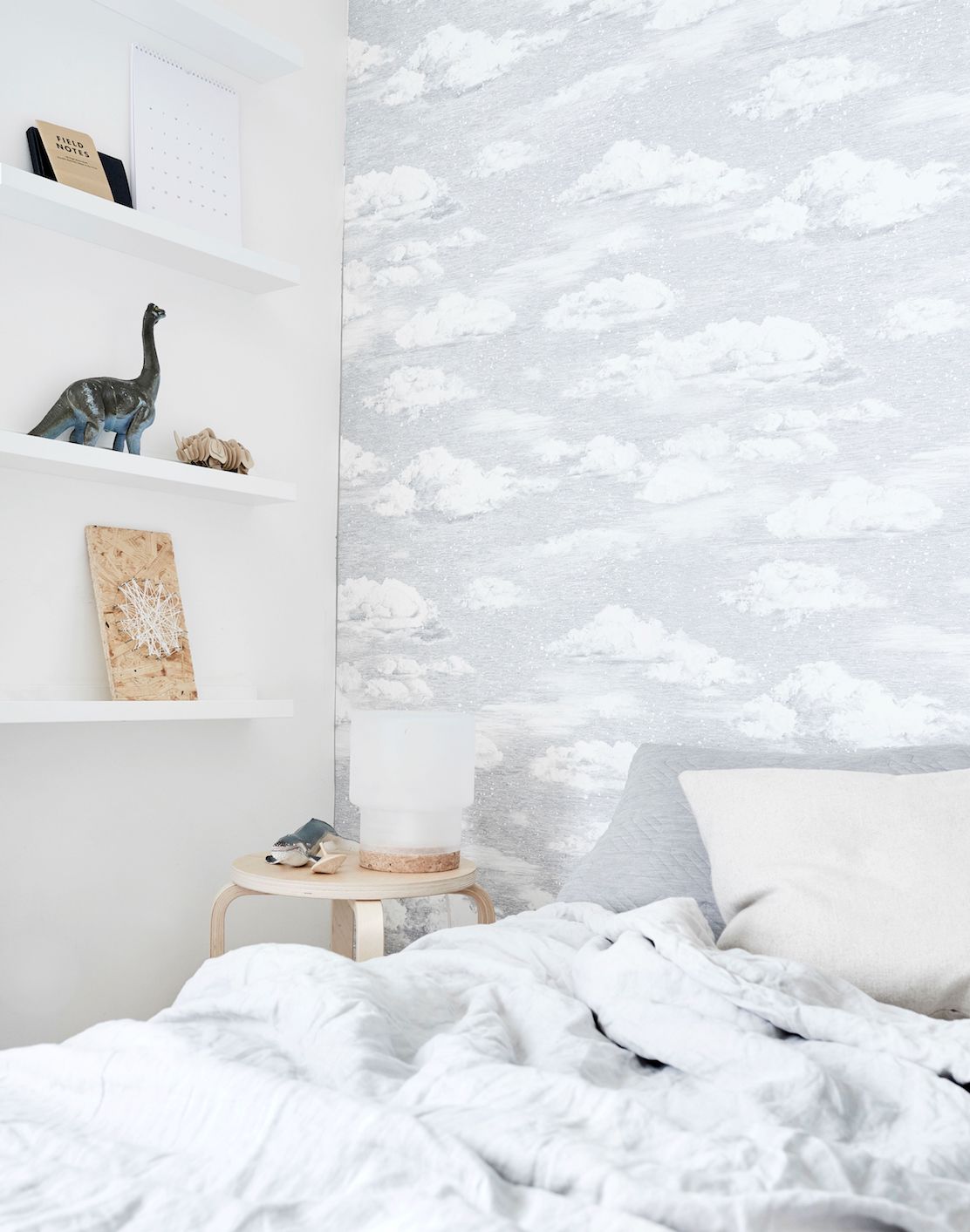 Using wallpaper on every wall in a room might seem a little overwhelming for some, especially if you're after a more minimal look in your home. Plus some spaces simply look better with a 'less is more' approach. But how can you use a small amount of wallpaper to have the desired effect and really transform your home?
The trick is in the styling and today we are going to demonstrate some tips and tricks our customers have used to make a small amount of storytelling wallpaper have a huge impact. Whilst every home is unique and will take to wallpaper differently, below there is lots of inspiration for you to create the interest you desire without covering every wall.
The chair rail
Many modern homes can be left looking a tad overpowered if you cover every wall in a room with paper.
The solid colour of a chair rail is often the perfect way to balance out the detailed pattern of a wallpaper. We recommend fixing in a solid-colour chair rail on the bottom half of the wall and having the wallpaper put in at the top. Match the colour to the wallpaper pattern and pair with some select pieces of contrasting furniture.
@beeboutdesign
The feature wall
If you're keen to incorporate a feature wall into your home, then we definitely suggest painting the adjacent walls a complementary colour. Lots of people think white is the way to go, and whilst this might be the safest bet, it definitely isn't the most interesting!
Pick out a colour that makes your chosen wallpaper really pop. This can be the subtlest of shades from within the pattern itself, or a colour that combines a few. From there, choose furnishings and pieces for the room that develop your chosen palette and blend your interior together as one.
@crisdiazfoto
@riikka_kantinkoski
@karinas_littletownlife
@yokokloedendesign
Using furniture
It's a total myth that you should just leave a wallpapered wall be; our designs were made with imagination in mind and we urge you to get creative! Whether that's shelving, a tall cabinet or a desk, it's ok to cover a little bit of the pattern up, as long as you have the majority of the design out for people to see.
Plus, if you are keen to have a feature wall and not a chair rail, then solid furniture can actually break up the pattern and make it seem less overwhelming.
@kamila.pelczar
@samanthajonesathome
A vertical divide
If your ceiling is high, then you can also structure your room so it divides the wall space into two parts, thereby breaking up the pattern in a different way to the above.
This can be easily achieved through the combined use of tall and low-lying furniture. As Hannah Argyle's picture demonstrates, the Dado rail frames the pattern perfectly and is paired next to a much shorter sofa, so in between you have a natural architectural divide that lets the beautiful wallpaper design shine through. 
@hannahargyle
@honghenwoodstylist
Frame your wallpaper
And finally, don't be afraid to make your wallpaper a focal point in your home - it was designed to be on show after all! Use pieces of furniture, such as bookcases, to frame the pattern and draw attention to your favourite details, like you would with a piece of art on the wall. 
This might also be handy if you have children and want to mark out a clear area for them to play. The framed wallpaper will draw their focus, especially if you choose one of our magnetic ranges, which they can interact with using our range of animal-shaped magnets. 
@jesslavers
@what_eva_loves
Pin it for later
Read more from our blog:
Renovating a Period House with Tanya Ross
Tips to Renovate Your Home This New Year
Feature photo: Classic Seasons Winter Snowdrift by @riikka_kantinkoski
See Comments