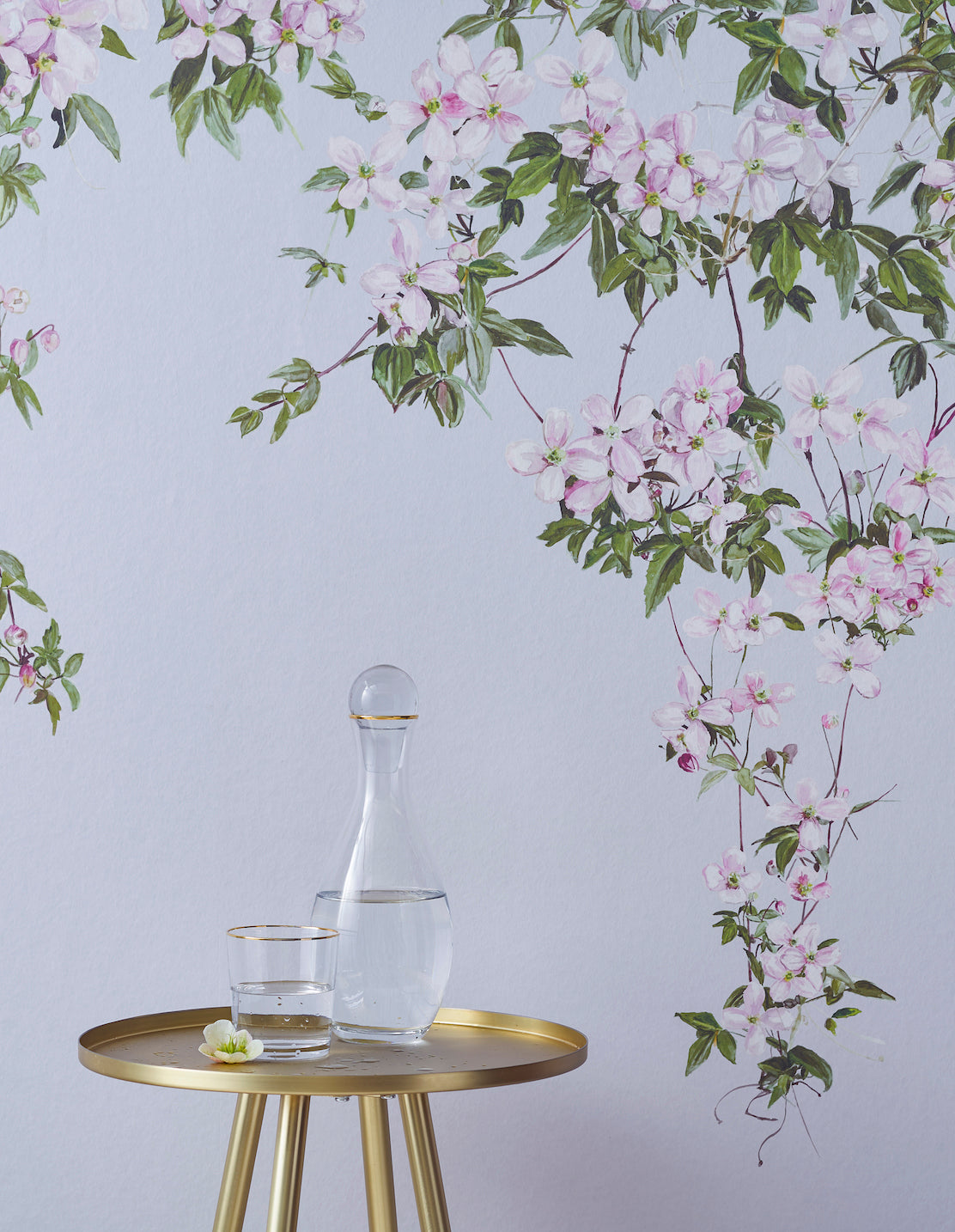 We are so pleased to announce the official launch of the Sian Zeng Clematis Collection. Walking the line between the imaginative and the everyday, our new Clematis Wallpaper Mural presents the tangible beauty of nature with a fairytale escape, as the intricately painted clematis climbs down to cast a spell over your home.
After eight months of intricate painting and designing, the Clematis Wallpaper is one of Sian's dreamiest designs to date. Unlike many murals, our Clematis design is painted at 100% scale and authentically reproduced onto a luxurious Fiberous non-woven material. As a result, the tonal qualities on this wallpaper mural are almost indistinguishable from hand painted wallpapers. 
As the Clematis weaves its way down from the ceiling, we invite you to take a nap under the canopy of flowers, the petals and vines a romantic blend of pink and green. And once you wake, the dreams don't stop there. With its mesmerising beauty, the Clematis lets your imagination run free as you envision the wonderland you just dreamt of come to life before your eyes. Your home, adorned with the magic of the outdoors, becomes as bright and free as nature itself.
We think this labour of love is positioned perfectly as a backdrop to furniture, as the downwards climb of the pattern ends where household objects begin. We particularly love the way the clematis has the potential to work its way into room fixtures, an illusion that blurs the boundaries between wallpaper and furniture like a true, wild flower.
Alternatively, if you are going for a more minimal look, then you can remove more of the clematis plant at the top of the design to make way for more of the solid colour at the bottom to accentuate your furniture. Simply cut away from the top of the design to achieve the solid background you desire, especially if you have, or want to add, a chair rail to your wall.
Fashion stores would also benefit from this design as the bottom half gives a definitive background to patterned clothes. The Clematis is also great for weddings or events, creating a beautiful backdrop to portraits or other display pieces.
Available as a classic wallpaper in romantic pink, white and blue. Watch your stories come to life with the magic of the Clematis.
Styling: Charlotte Love 
Photo: Alexander Edwards
Bedframe: Tiretta Living
Side table, pink armchair, coffee table: MADE.com
Paint on skirting board: Farrow & Ball in White Tie
Paint on chair rail skirting board: Farrow & Ball in Dimity
Victorian tulle dress: nununu
Soukie Backpack: Olli Ella
Pin it for later
Read more from our blog:
Renovating a Period House with Tanya Ross
Tips to Renovate Your Home This New Year
Get the Look: A Dinosaur-Themed Kid's Room and a Dreamy Pink Nursery
See Comments