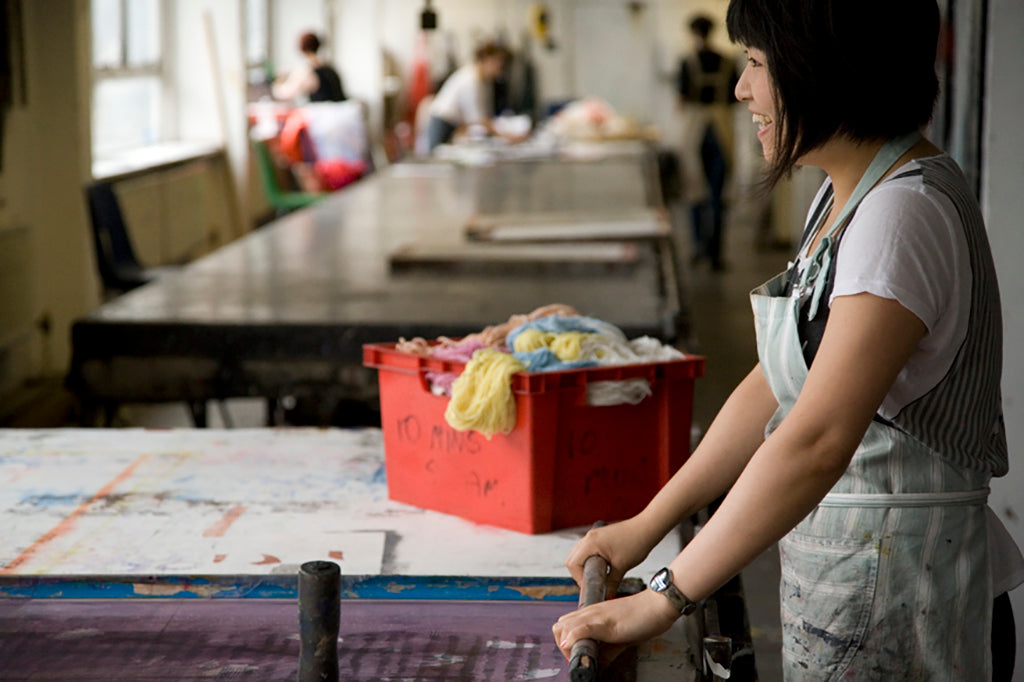 It's been a poignant year at Sian Zeng.
This month alone marks the 10 year anniversary of registering my company and officially launching my own business.
At the beginning of 2019, we launched our ninth pattern and second wallpaper mural, The Clematis. Just recently, we also won the Grand prize in the Global Etsy Design Awards and took the next big business step, registering ourselves as a Limited liability company. 
Over the years, many people have asked me how I started selling designer products. As I reflect on the last decade spent building my company, I hope to give you a glimpse into my journey. It will be a more personal, less glamorous account of how our business has grown and the hurdles we've overcome along the way. I warn you, this is going to be a very long read; I'm packing a whole decade into one single blog post. So grab a mug of something warm, settle down and join my team and I to celebrate this milestone with us.
2009-2010
Back in 2009, I graduated from Central Saint Martins with a BA in Textile Design. The image above is of me screen printing during my final year at university. Since this was my second degree (my first was in Economics) and the one I chose for myself, I felt motivated to make the most out of it. Keen to build my body of work, I made a lot of use of the university's amazing facilities and equipment, often printing wallpapers into the weekends. My husband, who at the time was my boyfriend, came to help me print sometimes.
Image: Little Red Riding Hood and the Wolf illustration that won the William Atkinson Award
From the start of my career, I knew my strengths lay in my illustration work, for which I received the William Atkinson Scholarship from Central Saint Martins on my visual interpretation of Little Red Riding Hood. Even in my early years studying design, I was drawn to using my illustrations to tell stories.
My degree show project was an interactive magnet receptive Woodlands wallpaper, with a cast of magnetic characters and write on speech bubbles that people could move and use to act out their own story. The show was a success, not only because it was picked up by several newspapers and blogs, but I also met Margarita Lorenzo, who has since become one of my best friends and introduced me to other designers in the industry.
Photo: Sian Zeng Wallpaper featured for the first time on Holly Becker's blog decor8
Straight after finishing university, I moved to Oxford to join my husband who was finishing his Phd there. Soon after settling in, I created my company, not only to sell my products, but to take on freelance jobs as well. It was around this time I joined Etsy, an online marketplace for unique, independently designed products. I was initially selling smaller items than I do now because they were affordable to make myself, including hand printed magnets, tea towels and key rings. 
A year into my time in Oxford, I realised I needed to be where other designers and makers were in order to gain an insight into the industry. This was mostly in London. As a more mature business today, I could possibly move to Oxford, but fresh out of college, I felt I needed the wider support network available in London. 
When I first moved to London, I was hand printing soft toys, such as bears and giant scissors, as well as wallpaper. It was around this time that my hand printed wallpapers and an animation I created whilst in university won the Elle Decoration Young Talent of the Year Award. My work was subsequently exhibited during Milan Design Week 2011 and I made lots of great connections.
Photo: Sian Zeng 2011 First Hand Printed Wallpaper Collection by  Rus Anson
Despite all of this, I felt lost. Running a small business is nothing like what's described in textbooks. Only through years of experimentation and experience have I been able to understand what is important, especially for my business; creating unique, high quality products is key to be able to compete against larger companies with better economies of scale. 
People have also asked why I did not continue hand printing my wallpapers. I had a few reasons.  Mainly, I enjoy designing more than printing, especially when it requires large quantities of the same pattern being made. Secondly, hand printing made the wallpaper really expensive to sell. And thirdly, with the equipment I had at hand, I wasn't able to produce my wallpapers with perfect repeats. Even though people said they didn't mind due to their hand-printed nature, I wasn't happy sending out wallpaper that didn't match. I've always strived for the highest quality possible in my work.
Photo: Sian Zeng Bears by Rus Anson
2011-2012
Between 2011 and 2012, I reached one of the biggest turning points in the company. Up until then, I'd been hand printing each wallpaper, but this was expensive and taking up too much time that could have been better spent designing new collections. That's when Hilary Duff's interior designer placed a large order for our magnetic wallpaper, allowing  me to put our first wallpaper collection into production. I remember being on the phone with my first wallpaper manufacturer almost daily to try to ask them to print our wallpaper rolls before Hilary Duff was due to give birth. In 2012 our first Magnetic Woodlands Wallpaper was ready in time for her baby boy's gorgeous new nursery.
Photo: Hilary Duff speaks about her Sian Zeng Wallpaper to US Weekly in 2011
Here's what she said: "My decorator found this wallpaper- this girl in England does it -- and it's Magnetic! It has all these adorable characters, so you can move around the wall and stuff."
Photo: Sian Zeng full page feature in Elle Decoration 2012
The budget for the photoshoot of our first magnetic wallpaper was very small, so I was grateful to the help of my talented friends to bring my vision to life. Margarita Lorenzo helped me style it, Natalia Ryzhova Lau enlisted her daughter, Alyna, to be my child model, and we borrowed cabinets and props from people in our building. Despite the size of our budget, this was the year we were published extensively by the press and even had a full page feature in Elle Decoration in 2012.
 Photo: Natalia and Alyna by Sian.
I've never been a very practical person, but with the help of another maker and her electric sanding machine, I was happy to get stuck in, sanding the table down for the shoot.
Photo: Sian sanding the table for the first Woodlands Wallpaper photoshoot.
2012-2014
In this period, I spent a lot of my time experimenting with the type of products I wanted to make and how they would coordinate well with the design of my Woodlands Wallpaper. This included cushions and bed linens. Even though people loved these products, we decided to narrow our focus to our expanding collection of wallcoverings. Here is a sample of the colourways we developed for bed linens, of which we still have a few left.
Photo: Sian Zeng Bed Linen colourways
2014 was another breakthrough for us when we launched our Dino Wallpaper via the decor8 blog. I was keen to get featured with Holly Becker, whose design news I'd long admired. She often features unique design news and is well known for being a trendsetter, so naturally I reached out to her before anyone else. She now has her own magazine called Holly Magazine.
When her article about our Magnetic Dino Wallpaper was first published I remember answering press enquiries for weeks. This was also the first of many times I worked with Charlotte Love on a photoshoot. She is not only an incredibly talented stylist, but went the extra mile, picking up rocks in the rain with me, cutting down plants from her Mum's garden and so on.
Photo: Sian Zeng Dino Collection launch photoshoot by Jon Day and styled by Charlotte Love
2015-2016
In 2015 I decided to take the company to an international trade show called Maison et Objet in Paris. My graphic designer assistant and I decided to do the show together. We stayed in an Airbnb that was, in the middle of nowhere, freezing and neither of us spoke any French. We even misunderstood when we were awarded a prize for the best stand in our hall. Only when someone from the show turned up with a bottle of champagne and a placard saying TF1 would like to interview us for their 6 o'clock news, did we realise we had won the Decouvertes Prize.
Photo: Sian  talking on TF1 news about her magnetic wallpaper in 2015
Our new Seasons collection launched at Maison et Objet was so well received, we were featured in more magazines, including Elle Decoration and Architectural Digest.
Photo: Sian Zeng Seasons Collection press coverage in Elle Decoration and Architectural Digest
2017-2018
As the business grew and needed more attention from me, I felt my creative side was being neglected. I do enjoy running my business, but I also really missed spending a significant amount of time painting. I'd been thinking for a long time that I would like to paint a large forest scene, but I could not justify my time financially, so I kept putting it off. 
It wasn't until I was sitting at a coffee shop one morning and drew this picture below, did I realise how much I needed to go with this idea. The thought bubble says "No ROI just a freaking large tree". For those of you not familiar with the term ROI, it means return on investment, so it was time to listen to my creative brain, not my business one.
Photo: Hua Trees Mural Wallpaper initial sketches 
I wanted to paint the forest in a Chinese style so I enrolled myself in a Chinese painting course. When I first embarked on this project I never expected it would take me more than six months to paint and a few more months to clean the image and design the pattern, but it was all worth it.
Photo: Sian painting Hua Trees by Rachael Macrae
By the end, the painting was so large, we had to cut it in half in order to fit it through the scanner. We've learned and have since been using a different method for scanning over-sized artworks.
Photo: Hua Trees original artwork cut up for the scanner
Painting this collection taught me so many valuable lessons about working with large scale imagery and now this mural-style of wallpaper has become a big part of our brand. Hua Trees fast became one of our most popular wallpapers to date and we'll be releasing new colourways for this collection in the new year.
Photo: Hua Trees Grey by Jon Day and styled by Charlotte Love
While I am incredibly proud to see our wallpaper in homes and magazines across the world, it is such a special feeling to have something I've created as part of my own home. In 2018, Made.com approached me as part of a collaboration. I've been a great fan of their products for a long time, so I was delighted to hear they wanted to take photos of their furniture in my flat. They are modern, stylish and affordable, so of course I agreed. Here I'm pictured sitting on our sofa in front of our Winter Snowdrift Wallpaper, part of our Seasons Collection.
Photo: Sian photographed by Veerle Evens for Made.com
2019
This year, as we hit our 10 year anniversary, it certainly feels like everything is coming together.
At the beginning of 2019, we launched another very popular collection called Clematis. Delicately painted flowers cascade in a fairytale style down the serene backdrop of this wallpaper. Like a canopy for the home, Clematis has proven to be a dreamy design for bedrooms and quiet corners of the home.
Below you'll find a reflection of Charlotte Love and I in the mirror. It's a glimpse into our prep day before the big shoot for Clematis and demonstrates how important teamwork is when bringing a vision to life.
Photo: Sian and Charlotte Love preparing the Clematis photoshoot
Fresh off the launch of our second mural, the second half of this year was made even more  exciting after we found out we had won the Grand Prize in the Etsy Global Design Awards.
Photo: Sian by Veerle Evens for Etsy
More than 3000 people entered their amazing products, so we were honoured to have our Magnetic Dino Wallpaper chosen as the winning piece. Since launching, Dino has proven popular with children and adults alike for its playful, storytelling design, and it's been a delight to see this wallpaper part of home across the world. To then be recognised by Etsy in this way was really wonderful.
Photo: The wonderful film crew Mark Moreve, James Mccarthy, Phil Tobitt and Luke Szubert for Etsy
Plus the win brought on some of our most exciting coverage to date. Etsy sent a talented crew to our studio to film my design process and they did a wonderful job capturing what we do on film.
Photo: Sian pictured with Josh Silverman CEO of Etsy in New York
I also travelled to the Etsy headquarters in New York, where I met the Etsy CEO Josh Silverman and the team behind this wonderful platform. I always suspected Etsy was a nice company, but meeting their team and their CEO made me realise how much they are invested in making sure their company is ethical, environmentally friendly and truly supports the independents they showcase.
Before: Barney Westlake fitting studio out with cupboards, a new desk and some lovely shelves. They say it's messiest before it becomes tidy again, don't they? This was definitely true for us.
The recognition we've received this year coincided nicely with our studio revamp, as if it was destiny that we were going to be photographed and filmed. Here is a before and after picture of our studio.
After: A serene paradise to work in. It was lovely to have the studio photographed by Veerle Evens for Etsy Inc
We're located in Cockpit Arts in Deptford, in a building full of designers and makers. We love it here and I personally look forward to coming in to the studio, knowing I'll get to chat to people brimming with creativity and who inspire me. Almost everyday I have lunch with Aimee from Another Studio, discussing our businesses as well as life in general. The advice I've received from Aimee over the years has been invaluable.
Photo from left to right: Emily, Sian and Kelly
Here's a photo of our team from a recent evening spent celebrating our 10 year anniversary and our Grand Prize in the Etsy Design Awards. To my right, you'll see Kelly Harris, whom you probably came across in your email communications. She's been amazing running our studio and communicating with our customers in the past few years. Emily Spivey is on my left, who has recently joined us as a copywriter and marketer. She is great at understanding our brand and is brilliant at communicating our ideas. Hopefully, you can now put faces to names and we can share more team pictures as we continue to grow.
Looking back on our 10 years, I feel like we've come a long way,  even if, at times, it felt like we were moving at a snail's pace. There is no doubt we've faced some challenges, but my spirit was always kept up by my very supportive husband, parents, friends, work colleagues and our customers. Starting a design company is definitely not a get rich quick scheme and I knew that from the outset. I started my design company because I was, and still am,  passionate about creating something new, blending the fun with the beautiful and bringing stories into people's homes. 
I hope you have enjoyed hearing about our journey and can celebrate our 10 year anniversary with us. To find out more about how you can participate and receive our special anniversary edition notebook, with all our collections sandwiched in between the pages, click here.
We would also like to take this opportunity to wish you a relaxing Christmas and a very Happy New Year!
Photo: Sian Zeng 10 year anniversary notebook
What's next?
While I'm working on the artwork for our next Fish collection, talented painter Aude Crepin, has finished painting our Jungle Wallpaper that we've been designing together for a while. It is due to be launched at the end of January and we can't wait to share the finished collection with you all. 
Photo: Sample of our new Jungle Wallpaper Collection in collaboration with Aude Crepin
We are also looking forward to the next year and bringing out more material innovations, which we hope to announce soon. If you would like to find out about our news sooner than everyone else, then sign up to our newsletter here.
You can also follow us on Instagram to see our daily progress, behind the scenes insights and watch how I struggle to get fit this new year!
Read more from our blog:
How to Style our Woodlands Wallpaper in Khaki Blue
Creating a Sense of Home this Autumn: Q+A with Interior Designer Yoko Kloeden
See Comments