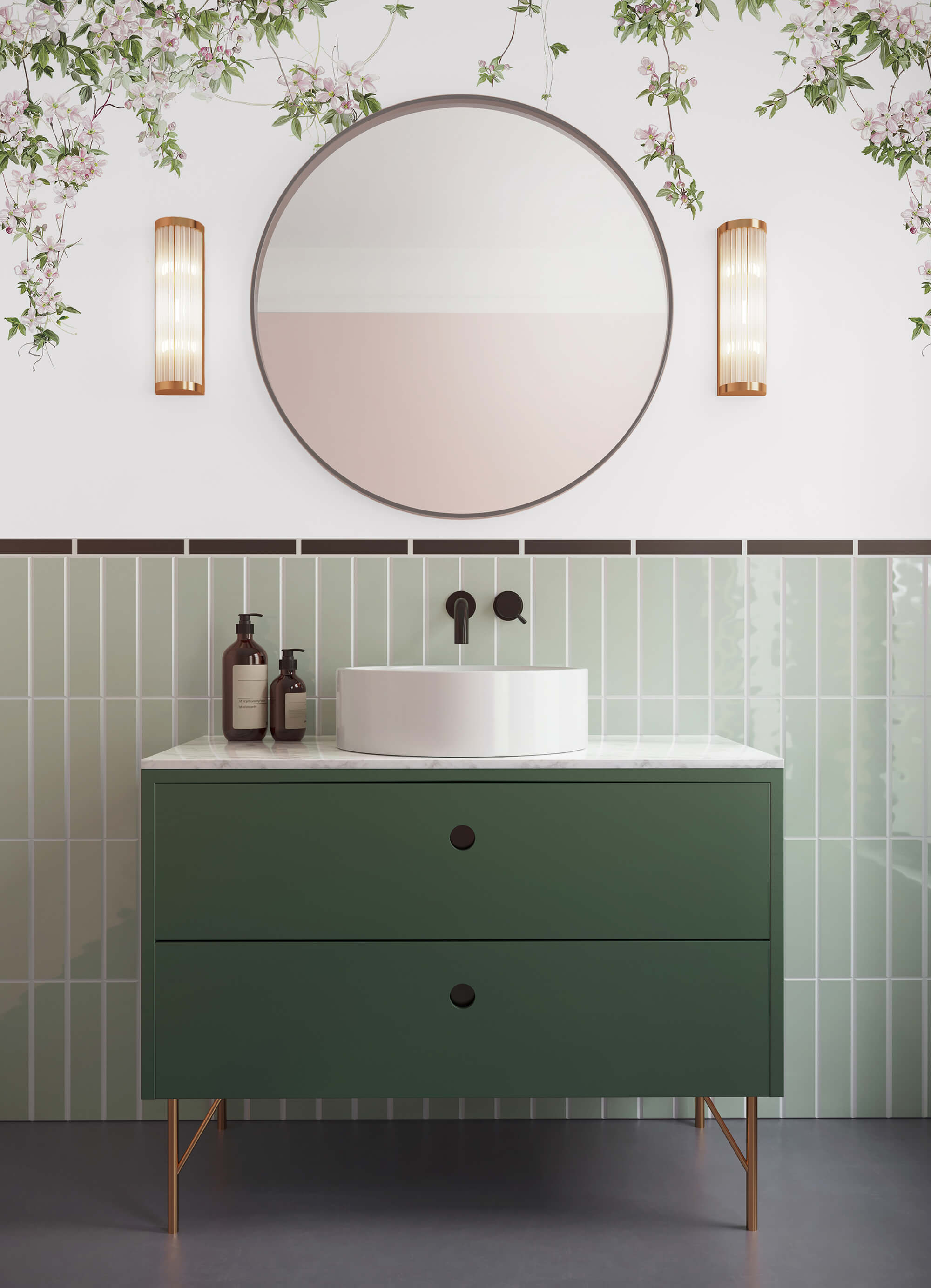 We've seen it on Pinterest, we've seen it in the magazines. It looks like they've used wallpaper in the bathroom. But is it wise to use wallpaper in a bathroom? We get asked this question regularly. The answer is… yes, of course! 
In this post, we reveal why wallpaper is actually a good idea for bathrooms, as long as you follow a few simple rules. We'll also show you some beautiful bathroom schemes that our customers have created, using our very own wallpapers. Let's start with our three top tips for wallpapering a bathroom:
1.Wallpaper areas that won't come into direct contact with water
We're talking about the walls that water can't get to. Of course there may be instances where water just gets everywhere. It's not only excitable pets or enthusiastic toddlers who like to splash about at bathtime, sometimes water just has a tendency to travel. 
Walls that are likely to get soaked should be kept wallpaper free. Even in smaller bathrooms, a single panel of wallpaper above or adjacent to the splash areas can be enough to enliven the space. On the flipside, if you have a huge luxurious bathroom with a freestanding bath in the centre, wallpaper could in theory be used on every wall.
2.Make sure the the bathroom is well ventilated
Keep the wallpaper as dry as possible with adequate ventilation. Lower the humidity with an efficient extractor fan and make use of open doors and windows to remove the moisture after showering and bathing.
3.Varnish over it
Applying a coat of Decorator's Varnish to the wallpaper will offer extra water resistance. You can purchase our favourite Decorator's Dead Flat Varnish from our website. Shinier finishes are available but we find this matt version works best on our wallpapers. Just make sure you test the varnish on a wallpaper sample to make sure you're happy with the finish.
Bathroom wallpaper inspiration
For the minimalists amongst us, bathrooms are best kept streamlined and clutter free. But without picture frames and trinkets adorning walls and shelves, it's down to the materials and surfaces to do the talking. Whether it's a downstairs cloakroom or a large family bathroom, wallpaper can be a great way to add a splash of colour and personality. Our customers continue to delight us with their creations. Here are some examples that really make an impact:
Photo: Lincoln Barbour Studio
A downstairs loo is the perfect space to experiment with a floor to ceiling statement wallpaper pattern. Interior designer Krisanna Sanders created this sophisticated monochrome powder room with our Hua Trees in grey, creating a moody, enveloping forest scape. The paper has even been used on the plug socket covers and we love it.
It was also great to see our Dinosaur yellow green wallpaper grace the walls of the bathroom at the very cool Stonefruit Espresso cafe in New York.
Combining bathroom wallpaper with tiles
Once you've decided which zones need to be splash proof and which will remain dry for wallpaper, it's time to get creative. Mix and match your bathroom tiles to compliment your wallpaper or completely contrast with it. It might be a colour or motif in the wallpaper that inspires your choice of tile and even your choice of paint colour, or vice versa.
Here, interior designer Valeria Lazareva has paired some white scallop tiles with our Hua trees in Pink. She's also sourced a patterned floor tile in a matching pink hue. All in all, a clean, functional and calming space that's still rich with texture and visual interest.
In this fabulous bathroom designed by Leda Sweerts, our Tropical Bloom wallpaper is freshened up with a simple white bath and a panel of rectangular tiles. An abundance of plants in the room really brings the botanical print to life. As always, if you have any specific questions on how to decorate your bathroom with our wallpaper, we're more than happy to help. Huge thanks to all our customers who have shared their interior design projects with us and we look forward to seeing more!
See Comments