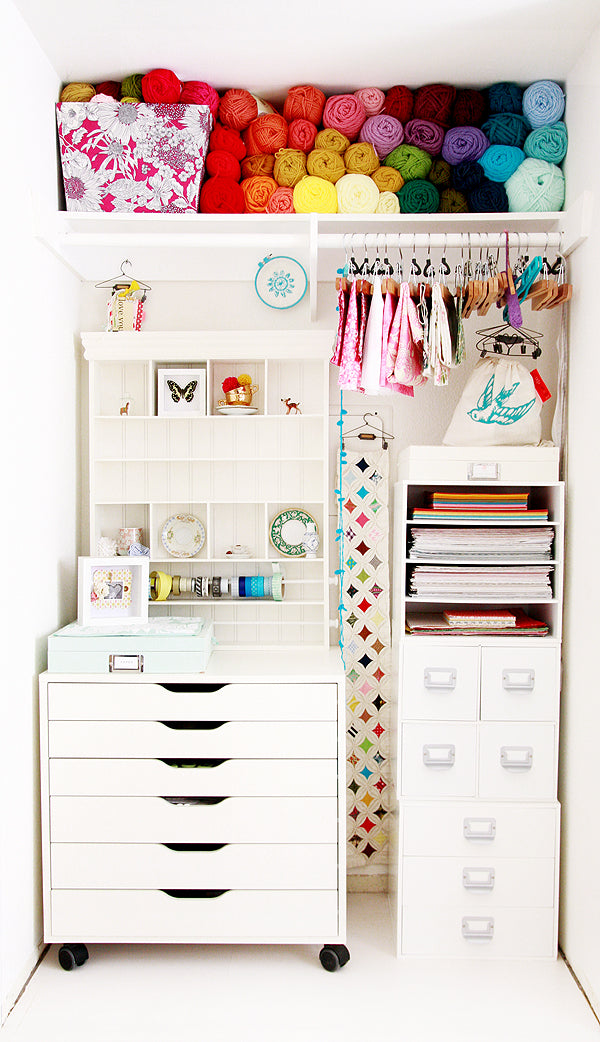 We're passionate about interior design- it's kind of a prerequisite of the job. We have collected 10 of our favourite office and studio spaces for interior inspiration: 1. We love these storage ideas from
 Soap Deli News
, including using a wine rack to store pens, pencils and other supplies. Genius, and so pretty!
2. So jealous of this colourful craft corner from 
Deebee Campos
. What a fantastic way to store yarn! And the mini shelves above her drawers are such a great idea to display inspiration.
3. Wow! This is one bold wall- see the world as you work, all day long. A great idea, especially for those inspired by other countries and cultures (with a small danger of spending the day dreaming of far flung holidays...)
4. If you're after something a little more glamorous, check out this huge chandelier! Imagine yourself at work in your mansion- after all, success is so much in the mind In a more practical sense, the slightly muted light is much kinder to the eyes than 100-watt overheads.
5.  We adore the use of clothes lines and pegs in 
Lindsay Stetson Thompson's
 studio- one of those ideas that is so simple and so effective. Much easier to mix and match inspirations than a mood board, too!
6. FABULOUS. This storage uses
 Montana Living by Montana Møble
r. Montana comes in a range of 42 basic units, which are available in 4 depths, 42 lacquer colours and 7 special surfaces, giving you a possible 5 billion combinations. We love this monochrome arrangement, with different sizes and levels of drawers. A great way to liven up storage, and a really bold addition to a light, white studio space. It would be a joy to use!
7.  Another wonderful storage solution here, from
 Stefanie Rathjens
. We just love the in-table storage that makes optimum use of space while still being able to view supplies. And check out the way she has worked with the space she has, following the triangular ceiling shape- brilliant!
8. How excited can you get over shelves? Very, if these are the shelves in question! Sadly can't find the provenance of these, so there's a DIY project in the making. A good match for our 
Magnetic Woodlands wallpaper
, don't you think?
9.  One for the more minimalist taste, this offering from 
Johanna Pilfalk
 (site in Swedish!) Loving the strong black and white theme in this space. It's so important that your studio or office space reflects your tastes and your own practice, to keep you "in the zone".
10. Last but by no means least, vintage clothing seller 
Beth Giles' gorgeous studio space.
 Lovely juxtaposition of vintage style, especially that big blackboard, with her ultramodern computer, lamp and printer! And those clipboards are such a great idea for displaying inspiration.
We'd love to see interior spaces that inspire you to add to our collection- you can find more of our favourites 
over on our Pinterest
. We'll be posting another top ten soon.
See Comments