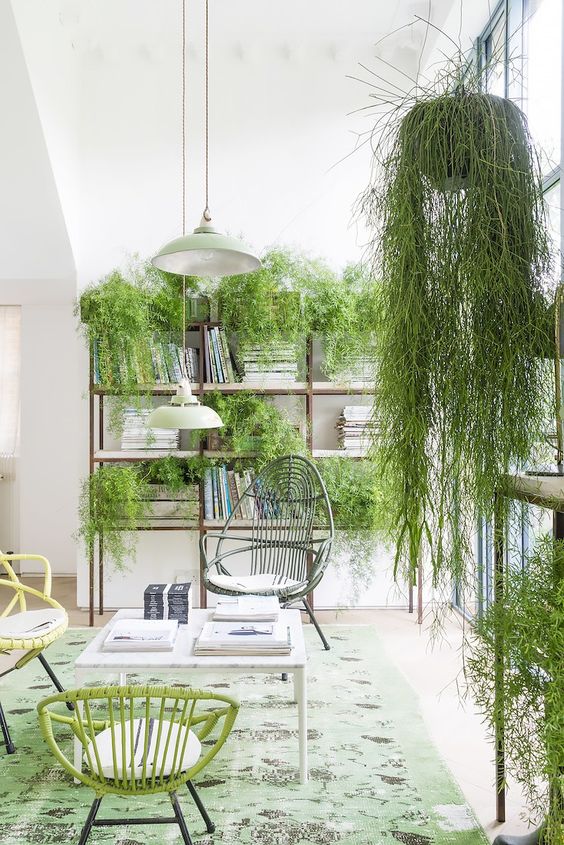 The Pantone colour of the year 2017 has been announced as the refreshing and revitalizing shade; greenery. Symbolising new beginnings, PANTONE says: "Greenery offers us self-assurance and boldness to live life on our own terms, during a time when we are redefining what makes us successful and happy." We can definitely get on board with that, and have put together some ideas on how to bring a bit more greenery into your home in 2017. Feature wall Immerse your home in stunning botanicals incorporating the Pantone colour of the year with our spring and summer wallpapers. These wallpapers work perfectly as a feature wall as they have an artistic mural like feel, and give a contemporary twist to traditional botanical studies.
Children's interiors Greenery is not just for the adults, but for kids too. We created a fun and lush corner for kids to roam wild by using our Dino green wallpaper as the backdrop and adding terrariums filled with mini dinosaurs.
 DIY Greenery Add some greenery DIY style by pressing leaves, drying them out, or even painting them using watercolour to create your own arty green wall.
Accessories Easily keep up with the greenery trend by swapping out your old cushions and throws for this updated colour, or simply by adding some plants into your decor. Nature's neutral, PANTONE Greenery is a versatile shade that lends itself to many color combinations, so you don't even need to worry about it clashing!
PHOTO: JJ Locations Like this post? Head over to our Pinterest page or follow us on Instagram, Facebook and Twitter to find out more about whats going on at Sian Zeng…
See Comments