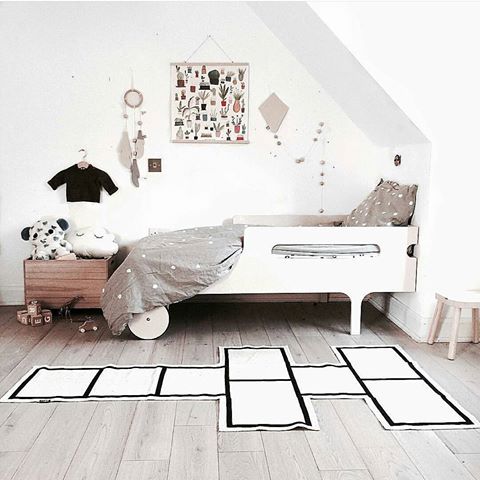 Children's rooms are more than just a space for kids to rest their sleepy heads, they are used for playing, working, building pillow forts and creating imaginative adventures using anything they can lay their hands on. Your child's room should reflect their personality and what better way to do that than by styling their bedroom with fun and adorable furniture. We really love original and creative pieces, and have pulled together some of our favourites from Pinterest to inspire you and your kids!
The Hopscotch Rug This stunning minimalist rug from KAOS will keep your kids occupied for hours, whilst adding a stylish touch to any bedroom or playroom. Trendy in monochrome, the hopscotch rug is easy to combine with other colors, and gives children the chance to jump around and let off some of that energy. Available here.
Teepee Bed A twist on the trendy fabric teepees, this luxurious and playful children's bed is the ultimate designer addition to your home. The finish on this piece of furniture is stunning, with a beautiful exposed pine frame surrounding a solid pine bed in white veneer, perfect for hiding and playing in! Available here.  
My Treasure Board - Play House Spark hours of imaginative fun at playtime with this sophisticated wooden shelf that doubles up as a doll's house. Beautifully designed in the shape of a 4 story townhouse, the My Treasure Board is a fantastic fun piece of furniture that will be the highlight of your child's room. Available here.  
Elephant chair From the fantastic designer Marc Venot comes this elegant set of furniture. The design is incredibly clever and creates the perfect workspace for children. Available in natural beech, this elephant chair and table stimulates storytelling and adventure and is beautifully pleasing to the eye. Available here.  
Fabric Tree Sticker Originally hand painted using traditional Chinese inks, this London and Croatian Tree fabric sticker offers an innovative, design-led update to any room. With a beautiful matte finish, these stickers are easy to reposition and remove, offering countless decorating options. These fabric stickers are available from our web shop.
Like this post? Head over to our Pinterest page or follow us on Instagram, Facebook and Twitter to find out more about whats going on at Sian Zeng…
See Comments