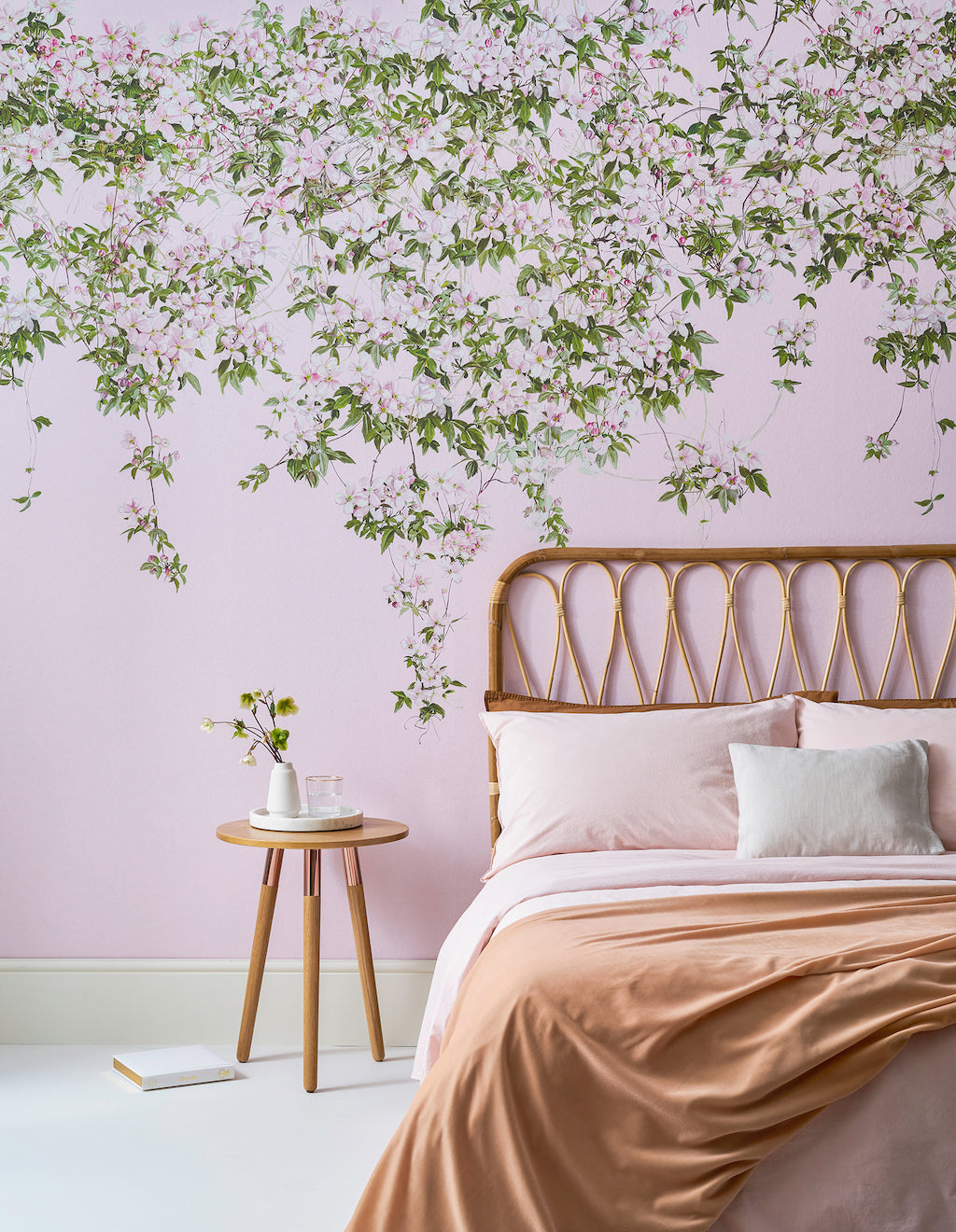 While wallpaper is often the first thing you set your eyes on when you walk into a room, it isn't the only thing you have to think about when putting a space together. Furniture and the way it works with a wallpapered wall can often make or break a room; you want to choose pieces that not only complement and accentuate the colours of your chosen paper, but also the shape of the pattern, all while ensuring it doesn't look too busy.
Furniture is a huge topic, so for the purpose of today, I have chosen to focus solely on bed frames. I'm sure we'll get onto other pieces in the not so distant future, but for now, this post will help you style out your ideal, wallpapered bedroom.
When my husband and I purchased our first ever flat, we had to decide on the perfect bed for our new home before we'd even wallpapered the walls, so I know a few things about how to make sure you are choosing the right one. Many of you will be able to make this decision with your wallpaper up, but we took on a completely unfurnished flat and had to order a bed pretty speedily; we didn't quite fancy sleeping on the floor for weeks!
I remember the initial wave of panic I felt when selecting a bedframe for our bed. It's a huge investment piece for the home, possibly our most expensive purchase for our flat, and it's something you want to keep for years to come, so the right decision is key. Luckily I had my notebook with me (an essential!) when we headed down to the shop, full of flat ideas and wallpaper samples I'd collated in preparation for our new home.
Bedding from Made. Photo by Veerle Evans.
As a wallpaper designer, I understand how light conditions can affect colour, so a lot of my time in And So To Bed was spent running outdoors to check the fabric samples for each headboard against the samples I had of our Summer Tropical Bloom paper. The sales assistants were very patient and I would always suggest taking your time to ensure you don't make any rushed decisions.
In the end, we chose a Vispring Bed with a Moncorvo style headboard. Although we got our bed and frame from And So To Bed, I heard the Vispring range in John Lewis is just as good at a lower price for those of you interested.
Lamp from Made. 
But enough about me. In recent months, I've also started to notice a trend for Rattan headboards and cots. The organic curves bring such a natural atmosphere to a room.
I loved this trend so much, I decided to collaborate with Tiretta Living for the launch of our latest collection, The Clematis. Not only do they look great together, but Tiretta Living hand make these beautiful pieces in their workshop in Spain.
While natural, earthy shapes and shades are wonderful to have in the home, the industrial look can be just as comforting and stylish when done right. Hannah Argyle, for instance, has created such a bright and beautiful bedroom, using a bedframe from Made placed as an impeccable contrast to our Hua Trees Mural Wallpaper in Pink behind.
Photo by Hannah Argyle. 
If you are styling a child's bedroom, I suggest going all out and getting really creative with the form and shape of your chosen frame. House-shaped bed frames are particularly exciting and reflect the sense of adventure and playfulness you'd want from a kids interior. Even if you're just searching on Google for one, it will keep you entertained for hours!
Peek and Pack are the brand behind this specific frame and if you're in Spain, they also stock our wallpapers.
Photo by Peek and Pack. 
For a softer edge to a room, don't be afraid to place a canopy at the top of your bed or cot. It's a dreamy addition to any space and can work really well as an accentuation of our enchanting designs.
Photo by @jauraispumappelermarcel
Photo by @s.harrsjo 
Headboards can be quite the acquired taste too, so there is always the option for a simple bed frame instead. As seen below, scatter cushions can be a great alternative to dressing up your bed and introducing a palette of complementary colours and textures that really let your wallpaper shine.
Photo by @weekdaycarnival. 
If you have anymore questions about how to choose the perfect bed frame to go with your wallpaper, please don't hesitate to leave a comment or drop us a message via email our Instagram.
Pin it for later 
Read more from our blog:
How To Customise Our Wallpaper Murals to Fit Your Wall
How To Transform Your Home With A Small Amount of Wallpaper
See Comments