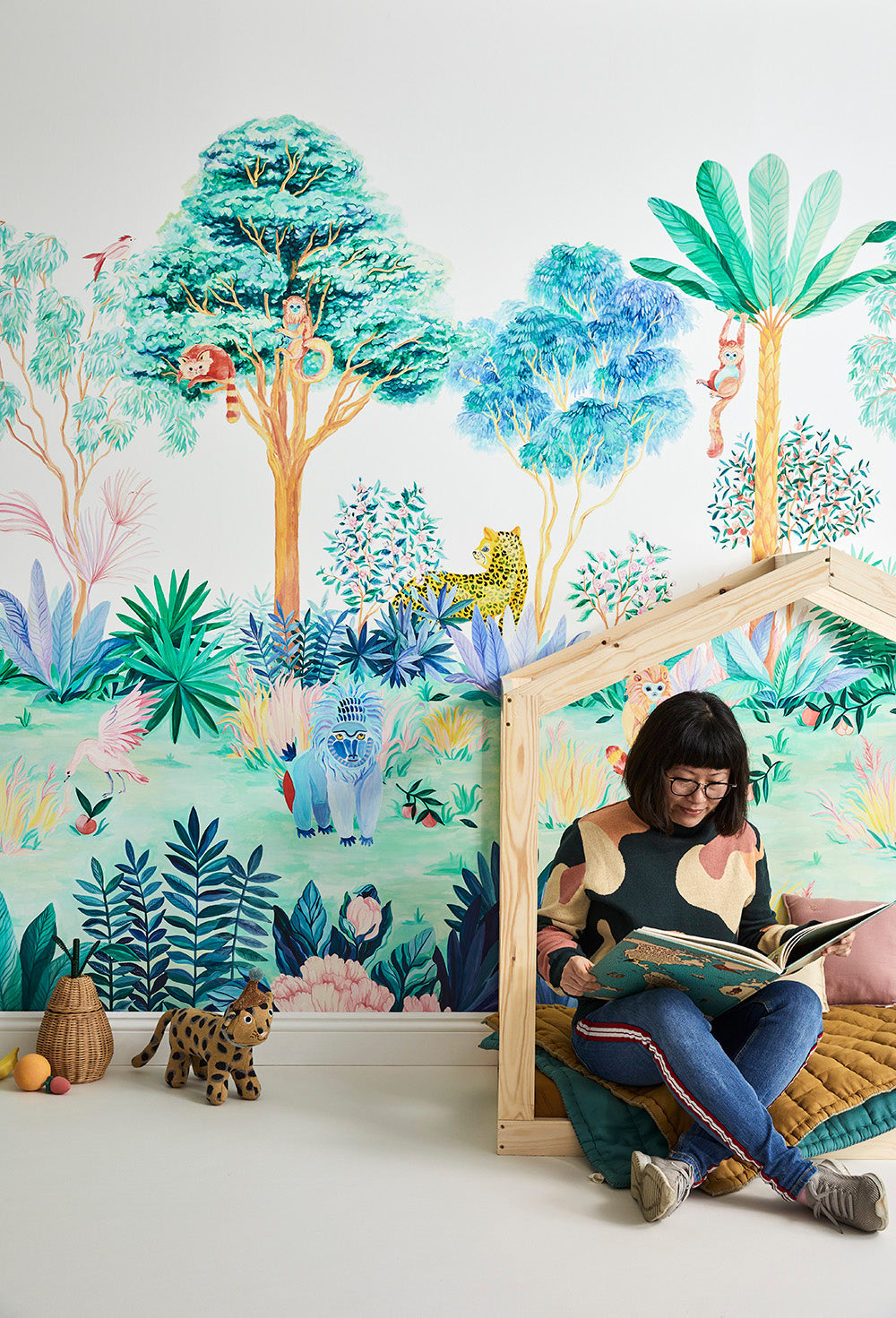 Well 2020 wasn't quite the year anyone expected. Like many, the global pandemic meant that from March, we had to shut up our studio space and work remotely as a team. Operating in this way took some adjustments, but we managed to keep things going smoothly and get some things we're pretty proud of achieved, despite the challenges!
So today we thought we'd reflect on all the positives that have come our way this year at Sian Zeng, before turning our attention to some exciting things coming in 2021. For any other artists, creatives and business owners out there, we also just want to extend our support to you at this time. Let's hope that the coming new year is better for us all.
New collection launch - Jungle
2020 had a fairly exciting beginning for us, with the launch of our new wallpaper collection - Jungle - in January. This was our most playful wallpaper date and the first we designed in collaboration with another artist - Aude Crepin. 
Read more about our Jungle Wallpaper launch here.
More Hua Trees colours
We also began the year with the release of more colour variations for our Hua Trees Mural. This enchanting wallpaper has captured the hearts and homes of many over the years, so we decided to explore other colourways, keeping to the pastel theme of course.
You can now shop Hua Trees in Dusty Green and Blue, beautiful shades that really enhance the natural elements of this pattern. Read more about Hua Trees new colours here.
Sustainable switches
We've always viewed our products as forever pieces for the home, but this year we took this one step further and made it our mission to explore more sustainable packaging alternatives.
Where possible, plastic bubble wrap has been switched to a paper alternative and we've phased the use of small plastic bags to biodegradable ones made from cornstarch. We've also started using eco-friendly packaging tape from Sticker Mule, a great sustainable packaging supplier.
We know there are more switches to be made in the new year, and we look forward to updating you about these in 2021!
As seen in...
We also received some pretty ace press coverage throughout the year, which we shared over on our Instagram at the time. In case you missed it, you can see it all here.
Style at Home included our new Jungle Mural in their April issue and our Autumn Snowdrift Wallpaper was featured in Casa Facile's September mag.
Clematis also received a beautiful 'Get the Look' spread in Mollie Makes and Sian chatted about her journey so far on the Etsy Success Podcast, after winning the Grand Prize at last year's Etsy Design Awards.
We were also treated to the sight of our wallpapers in your gorgeous homes, imaginatively styled in ways we had always dreamed of.
Here are a few of our favourites from the year…




The team continued working throughout
Before we round off with talk of the new year, we also just wanted to say that the team couldn't have continued working so efficiently without the amazing home working tools available to creative's now.
We are particularly grateful for Todoist, our favourite task management system that makes home working easy and fun. If you haven't read our latest blog about how we've been using Todoist to work from home this year, then check it out here.
So what's to come in the new year?
If you've been following us on Instagram, then you might have seen that Sian's been busy working on the design and creation of our Butterfly Stickers, a new range of removable wall stickers to easily decorate and transform your walls.
We're also soon to launch our Fish Wallpaper! This collection is inspired by Sian's snorkelling trips whilst holidaying in Europe, quite a lovely piece to work on during a year where travel has been greatly restricted.
Finally, it's just about ok to say that we've got some more collaborative collections coming out in 2021 too. Like our Jungle Mural, expect to see wallpapers reproduced from original artwork by some incredibly talented artists. We can't wait to share these with you, soon!
To be the first to hear about our new releases, sign up to our newsletter here.
Before we go, we'd also like to say a huge thank you to all our customers and trade partners for supporting us and keeping us going this year. We couldn't have done it without you!
Read more from our Blog:
Task Management Tips from a Small Business Owner
Gender Neutral Wallpapers for Nursery Rooms
See Comments