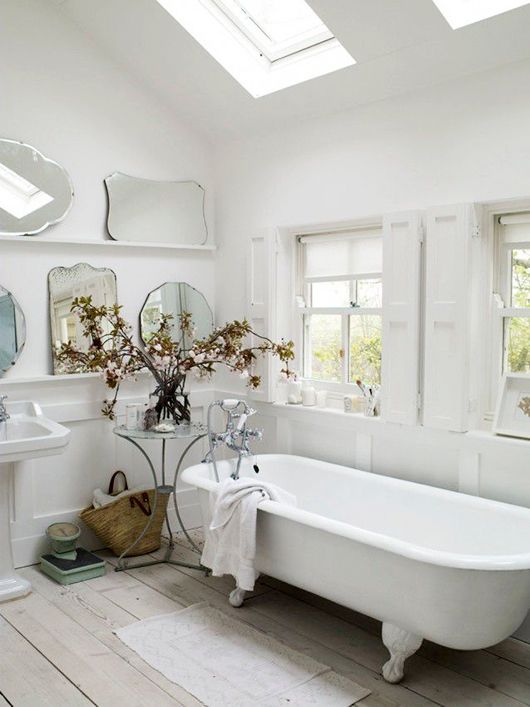 Having a mirror in your home is an absolute necessity, however we like the idea of taking this one step further. A mirror can add so much to a home, be it in a decorative sense or by adding extra depth to a room. Here are a couple of ideas from people who have used mirrors not just for their functional purpose, but also as a piece of art. Secret Garden Mirror This fantastic idea of creating a 'secret garden' by placing a mirror in your garden, creates a beautiful illusion that is almost fairytale-like. Getting the placement right is very important, and looks incredible when surrounded by shrubbery.
 Via Veranda.com
 Image by Michael Graydon Via Style at home
Gallery Mirror Wall Interestingly shaped vintage mirrors, placed in a 'gallery wall' style, can work wonders for a room. In this picture, the bathroom has been decorated in this style beautifully, and allows the different mirrors to bounce the light off from the adjacent windows. 
 Foster House via Film Photography Location Statement Mirror Rather than opting for a classic square shaped mirror, why not try something different. With the trend still firmly on geometric shapes, we think these mirrors are stunning, and they give you the breadth to arrange them in different ways.
 Via Urban Outfitters Mirror to create more space Mirrors can create the illusion of much bigger spaces and can reflect extra light back into the room. By either hanging or propping up a large scale mirror, you can trick the eye into thinking the space has doubled.
 Via Decocrush Blog
Like this post? Head over to our Pinterest page or follow us on Instagram, Facebook and Twitter to see more interior styling inspirations...
See Comments