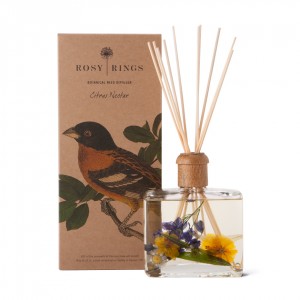 We've just discovered
Rosy Rings
- the brainchild of Shannon Cumberland, selling candles, diffusers and pot pourri in a broad variety of fragrances to suit anyone (you can search the website by one of ten fragrance categories, which is pretty cool). Everything is handmade in Denver, and the packaging and products are beautifully designed. We were particularly taken with the design of
Rosy Rings' reed diffusers
:
Each diffuser lasts 6-9 months and they contain real fruit and botanicals. Such a pretty item to have around the home, as well as scenting it beautifully. We're also rather enamoured with her Botanical Candles, especially this Clementine and Clove offering:
  It might be a bit Christmassy for spring, but with the weather outside at the moment, a warm spicy fragrance seems the perfect match. Rosy Rings are stocked by a variety of European retailers. To search by location click
here
. UK stockists include
Zalando
, and
Fortnum and Mason
.
See Comments