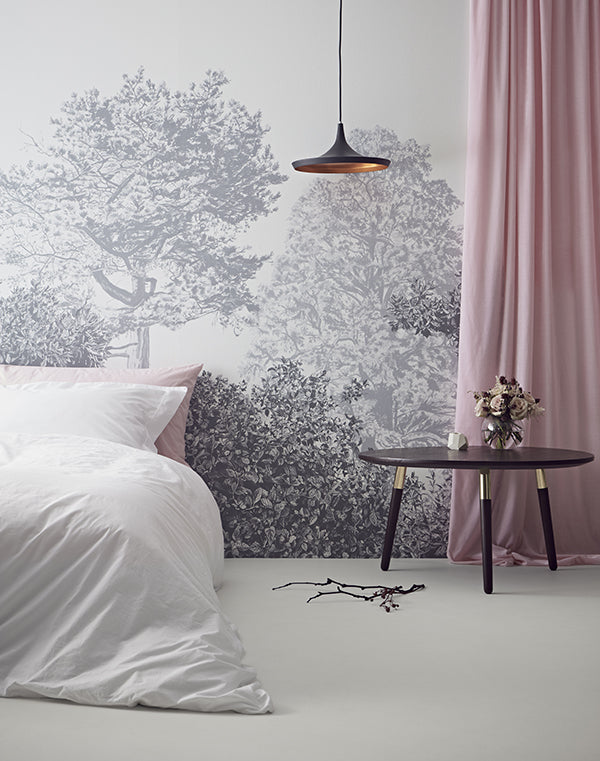 We are very pleased to announce the official launch of the Sian Zeng Hua Trees Collection! Painted using Chinese inks in a non-traditional style, Sian's Hua Trees collection is a reflection of her European and Chinese cultural heritage. From full-scale mural wallpapers, whose diverse tonal qualities create a feeling of distance and space in impressive scale, to intricate fabric tree stickers that can be adhered to walls to create an instant focal point. Each is a work of art, hand-painted at 100% scale and scanned to preserve every minute detail. Discover the new Hua Trees Collection.
 Hua Trees Mural - Pink Hedgehog Cushion - Pink Winter Blanket from n°74 
 Hua Trees Mural - Pink Kissing frogs cushion Winter Blanket from n°74
 Hua Trees Mural - Grey Tipi tent and Summer blanket from n°74 
 Hua Trees Mural - Pink
 Hua Trees mural in grey for a sophisticated bedroom - Range Coffee Table, MADE.COM
 Hua Trees fabric stickers London Tree fabric sticker Tipi tent and Summer blanket from n°74 Painted using traditional Chinese inks, these fabric stickers offers an innovative, design-led update to any room. With a beautiful matte finish, the sticker is easy to reposition and remove, offering countless decorating options. Matte, tear-resistant, scratch-resistant sticker Sticker measures H135cm x W120cm Easy to reposition and remove Eco-friendly Eco-Sol MAX® ink, which is eco-solvent and Greenguard-certified High density ink for a print-like quality, as if painted directly onto the wall PVC-free
 Croatian Tree fabric sticker, Flying Pig fabric sticker, Hedgehog fabric sticker Playroom Table - Jungle by Jungle available from Nubie Kids
 Croatian Tree fabric sticker detail.
To produce our SS16 shoot, we had the pleasure of working with an amazing team: Photography: Jon Day Styling: Charlotte Love Florist: Petal & Grace florists Younger boy model: Carsten Sivertsen, Older boy model: Brodie Sivertsen, Girl model: Alexandra Dogansi.
See Comments