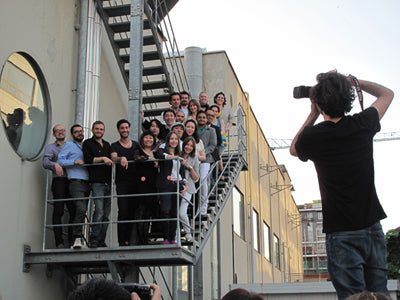 This year's Elle Decor Young Talents on  show was held at Stella McCartney's beautiful showroom with large windows that  filled the room with light and leafy trees sorrounding it. The exhibition was set up like a museum walk with elevated platforms displaying each young talent's work at its best. 20 designers selected by the 25 international editions of Elle Decoration were showcasing their furniture, objects and accessories.
Group Photo byElle Decor Italia 
Group photograph of the 20 designers posing with Pomelato's Dodo charm.
Photograph of me with Riccardo Sciutto (Managing director of
Dodo
division at Pomelato, sponsors of the Elle Decoration Young talent on show. A selection of my wallpapers and animation were displayed at the exhibition representing the Hungarian Elle Decoration (
Sian Zeng
):
In the following I will show you several of the other designers that particularly caught my attention.
Donna Wilson
Donna Wilson was this year's young talent from the UK. I knew about her cute and strange animals, cushions even before the exhibition. I absolutely adore them. It was an honour to have exhibited next to her.  
Scholten & Baijings
Butte Wooden jars designed by Dutch designers
Scholten & Baijings
and produced by Established and Sons. What I loved about their work was how they were able to combine minimalistic shapes with more quirky illustrations and solid vibrant colours. The jars are elegant as well as decorative.
Sashadasha Design
Moscow bowl and Paris bowl by SashaDasha Design, two sisters from Russia. The bowls have been inspired by a new vision of maps of a modern city and their interpretation. What I especially liked about this project was that they paid attention to small details such as engraving the inner surface of the bowl with information about the city's districts. The bowls are made out of lacquered metal, which reflects the urban cities such as Moscow or Paris very well.
Form us with Love
Form us with love
is a design studio operating from Stockholm. The studio was started in 2005 by the trio of Jonas Pettersson, John Löfgren and Petrus Palmér. Their lampshade called hood created in collaboration with Ateljé Lyktan is a very clever product with a modular system and with the possibility of growing! It can become as big as it needs to be. The light is made up of separate felt panels that are assembled on site, making it a flat-pack product.
Giappone
Leif.designpark is a design team based in japan, consisting of Takashi Ueno, Mamoru Naito and Keizaburo Honda. The dining table they have  brought to the exhibition feels natural and beautifully balanced. A single layer of white table top brightens up the wooden table and creates a separation of space of what is above and what is below the table. The shape of the table is accentuated by the vases on the table. Very well done.
See Comments